NEWS
'Transformers: Dark of the Moon' Star Shia LaBeouf Feels "Confident" About Third Film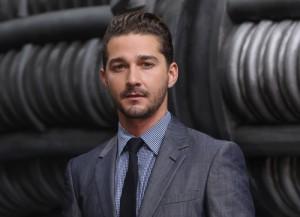 Shia LaBeouf's mouth has been known to get him into trouble, but so far the actor has been saying mostly all the right things to promote his new film, Transformers: Dark of the Moon. Just don't expect it to last too long.
OK! GALLERY: ROSIE HUNTINGTON-WHITELEY LOOKS RAVISHING IN LONDON
As Shia gets older in his career, he knows he wants to branch out from the Transformers franchise, which he was chosen to be the face of by executive producer Steven Spielberg.
Article continues below advertisement
"That's a gift and a curse," Shia told The Los Angeles Times of being Steven's "chosen one." "Steven introduced me to the world in a way. The man has been incredible to me. But the work that I've done with him, the character variation is not heavy. It's sort of all in the same vein. … I've gotta anchor these movies that are in these outrageous worlds, and I have to be as tangible as possible. … I have no problem with that, but I don't want to be there forever."
But he's happy with how the third film has turned out.
"This movie's very different, more physicality, darker premise, more story line, clearer thought," the actor explained of Transformers: Dark of the Moon. "I feel very confident in it. The last hour … is the greatest action sequence of Mike's career, which would put it on the same level as the greatest action ever made. …The second movie we were making on the fly, and it was too convoluted."
Article continues below advertisement
OK! NEWS: MICHAEL BAY ON FIRING MEGAN FOX FROM TRANSFORMERS — "STEVEN SPIELBERG TOLD ME TO DO IT"
But Shia has to be careful about voicing his opinion on his films. In the past, Shia's mouth has gotten him into trouble like when he said he was unhappy with the way the fourth Indiana Jones movie was made.
"The way Steven described it to me was, 'When Tom Cruise walks outside his house, he doesn't pick his nose,' " Shia recalls. " 'From the minute he leaves his door to the minute he comes back home, he doesn't pick his nose.' "
Great advice, right? Well, not to Shia.
"Now that's a certain way to live your life that I have no ambitions toward," he says.