NEWS
A Traumatized Simon Monjack Reacts to the Death of his Wife, Brittany Murphy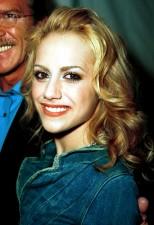 With sudden news of Brittany Murphy's death after a 911 call was placed from her home in L.A. early Sunday morning, Hollywoodlife.com reveals how her husband reacted to the tragedy and what went on inside their private house hours after her passing.
Simon Monjack, Murphy's husband since 2007, was seen pacing back and forth in front of their home after coming back from the hospital where his wife was pronounced dead at 10:04 AM according to Hollywoodlife.com.
Article continues below advertisement
The shaken screenwriter was spotted by a witness at the scene crying and screaming while on the phone that afternoon accompanied by a bodyguard, family, and the county coroner at the house, Hollywoodlife.com reports.
Sharon, Brittany's mother, who found her unconscious and called the paramedics, remained at the hospital until later in the afternoon, where her daughter's body still remains.
Hollywoodlife.com also spoke with neighbors at the scene while Brittany was being wheeled out to the ambulance on a stretcher.
Claire Staples, who lives nearby, tells Hollywoodlife.com that, "It was obvious she was already gone by the time they brought her down from the house."
Although paramedics, who arrived at the West Hollywood residence at8:30 AM, were attempting to give the actress CPR by, "sticking tubes down her throat," Staples claims that Brittany already, "looked yellow."
And while the medical team tried to revive Brittany, a very shaken Simon stayed away from the body, still in his pajamas from the night before, Hollywoodlife.com reports.
As for now, Assistant Chief Ed Winter of the L.A. Count Coroner's office tells Hollywoodlife.com that he was present at Murphy's house in the afternoon for a, "general investigation," into her death.