NEWS
Travis London — Chic Hotel Pick of the Week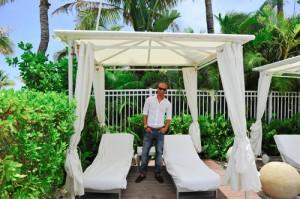 Travis London is all about eating and living well — the healthy and chic way. This week, Travis, who celebrated his birthday at SET nightclub in Miami, tells OK! why Sagamore, the Art Hotel in South Beach, is his chic hotel pick.
"The best part of the Sagamore is the art," shares Travis. "The hotel is like a working museum and when you stay there you get to be a part of it. The staff is kind and attentive and make you feel like you are staying with friends. Also what I love is how centrally located it is — it's right next to all the action, yet you feel like you are worlds away."
Article continues below advertisement
Sagamore, The Art Hotel, is a 93-all suite boutique hotel where South Beach Post Modern meets world-class contemporary art. For more info about the hotel log on to www.sagamorehotel.com.