NEWS
Travis London's Healthy Chic Eat of the Week!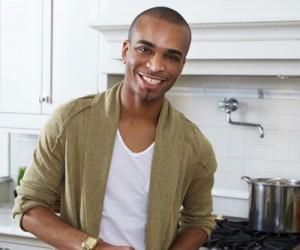 Travis London is all about eating and living well — the healthy and chic way — and every week, he'll be sharing tips and recipes right here on OKmagazine.com. This week, Travis shares his recipe for a delicious lemon pesto pasta salad!
"This dish is perfect for summer get-togethers with friends! It's not only simple to make, it's also heart healthy thanks to the addition of walnuts instead of the traditionally used pine nuts I pesto," Travis tells OK!.
Article continues below advertisement
Summer Perfection Lemon Pesto Pasta Salad
Serves 8
Pesto
Ingredients
• 2 1/2 cups fresh lemon basil leaves
• 1 cup toasted walnuts
• 3 garlic cloves, peeled
• 1/2 cup soy Parmesan cheese
• 1/2 cup extra virgin olive oil
Directions:In a food processor process all ingredients until completely smooth, making sure to scrape the sides. Set aside.
Pasta Salad
Ingredients
• 1 1/2 pounds whole-wheat Fusilli pasta (or whatever shape you like best)
• Extra virgin olive oil
• 3 cups broccoli florets
• 4 organic carrots, sliced into small rounds
• 10 organic cherry tomatoes, halved
• 1 1/2 cups pitted black olives
• 1 organic yellow bell pepper, diced
• 4 cups water
• Extra virgin olive oil
Directions: Cook pasta according to instruction and drain. Drizzle with olive oil, toss, and set aside. Bring 4 cups of water to a boil over high heat. Place broccoli florets and sliced carrots in a large bowl. Cover with the boiling water and let stand for 1 minute. Then drain vegetables and rinse them with cold water. In a large bowl, combine broccoli and carrots with the tomatoes, olives and diced bell pepper: mix in the cooked pasta and with a spatula fold in pesto.
Chic Tip: For a chicer presentation when serving, use tongs to plate pasta and swirl upwards to create a tower effect. Garnish each plate with grated lemon zest and basil leaves.