NEWS
Travis London's Healthy Chic Eat of the Week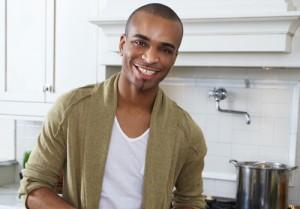 Travis London is all about eating and living well — the healthy and chic way — and every week, he shares tips and recipes right here on OKmagazine.com. This week, Travis shares his recipe for Zestfully Spiced Hummus!
"Fall is all about creating memories by spending time with loved ones. For your next get-together, have more time to enjoy those around you and spend less time in the kitchen with my quick and easy Zestfully Spiced Roasted Red Pepper and White Bean Hummus with Crudites," Travis tells OK!.
Article continues below advertisement
TRAVIS LONDON'S HEALTHY CHIC EAT OF THE WEEK — SWEET POTATO-CHOCOLATE DESSERT
Spiced Roasted Red Pepper and White Bean Hummus
(Serves 4)
Ingredients:
1 15 oz. can cannellini or white kidney beans, drained and rinsed
1 small clove garlic, minced
1 organic roasted pepper (packed in water), drained
1 organic lemon, juiced
1/2 tsp. ground cumin
1/2 tsp. seal salt
1/4 tsp. fresh ground black pepper
2 tbsp. extra virgin olive oil
Directions:
In a food processor or blender, pulse all ingredients, except olive oil. Then, while pulsing, drizzle in the oil. Serve the hummus with a crudité platter of organic raw bell peppers, radishes, carrots, asparagus, mushrooms and snap peas.
TRAVIS LONDON'S HEALTHY CHIC EAT OF THE WEEK — HONEY SPICED BLACK TEA CHICKEN!
Chic Look:
For a chicer presentation when serving, place hummus inside bell pepper and display on a platter with vegetables.
Healthy Tip:
When using canned goods, look for brands that use BPA-free cans. And for the most nutritional serving be sure to include in-season vegetables.
For more tips and recipes from Travis visit HealthyChicEats.com and sign up for his free daily newsletter. You can also like Travis on Facebook at Facebook.com/TLTravisLondon and follow him on Twitter at twitter.com/TLTravisLondon.