NEWS
Travis London's Healthy Chic Eat of the Week!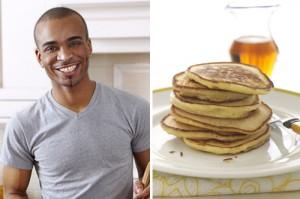 Travis London is all about eating and living well — the healthy and chic way — and now each week he'll be sharing tips and recipes right here on OKmagazine.com. This week, Travis shares his recipe for Banana Chocolate Pecan Pancakes!
"Morning meals can be healthy — and delicious as well," Travis tells OK!. "These pancakes sound like a decadent treat, but using whole wheat flour and semi-sweet chocolate instead of regular flour and milk chocolate with the added additions of nuts and banana turns these pancakes into a healthy breakfast alternative without compromising taste."
Article continues below advertisement
Morning Enticement Banana Chocolate Pecan Pancakes
Makes 8 pancakes
Ingredients:
• 1 cup whole wheat flour
• 2 tablespoons baking powder
• 1/2 tsp. kosher salt
• 3 eggs, well beaten
• 3/4 cup low fat milk
• 6 tablespoons honey
• 1 tsp. pure vanilla extract
• 2 ripe bananas, peeled and mashed
• 3/4 cup semi-sweet chocolate chips
• 1 cup pecans, toasted, roughly chopped
• Nonstick spray
OK! NEWS: CELEBRITY CHEF TRAVIS LONDON SHARES HIS PEACH SORBET RECIPE!
Directions:
1. Sift together the flour, baking powder, and salt into a large bowl. Slowly whisk in eggs, milk, honey, vanilla, banana, chocolate chips and pecans.
2. Over medium high heat, heat a griddle or frying pan and spray with nonstick spray. Drop the pancake batter into the hot pan (about 2 tablespoons), leaving 2 inches between the pancakes to allow them to spread and to make turning easier. Cook on the first side until small bubbles appear on the upper surface of the pancakes and the edges are set, about 2 minutes. Flip and cook for another 2 to 3 minutes.
Healthy Fact: An average banana contains 440 milligrams of potassium and only 1 milligram of sodium.
Keep it chic: Top off cooked pancakes with banana slices.
For more tips and recipes from Travis visit HealthyChicEats.com and sign up for his free daily newsletter.