NEWS
Trista & Ryan Sutter Celebrate Blakesley's Second Birthday!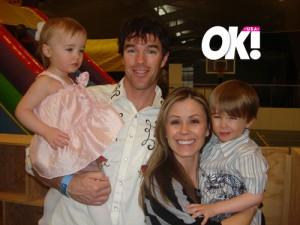 It's hard to believe little Blakesley Sutter is already two years old! Trista and Ryan Sutter's little girl celebrated her birthday with a fun party at their local gymnastics center, complete with a bouncy slide, gift bags, and cupcakes galore!
Trista told OK! all about her little girl's special party, and it seems it wasn't just the birthday girl who got a few treats — all her friends did, too!
"Stephen Joseph Gifts did the ADORABLE gift bags (cupcakes for girls and monkeys for boys) and when I found their new cupcake design, I decided to change the party's theme from just jumping/bouncing at our local gymnastics center — one of Blakesley's favorite things— to cupcakes —one of Blakesley's other favorite things!" explains Trista. "They all received personalized Tiny Totes, Animagnets, placemats, and stickers. Then, the girls received cupcake aprons and the boys received monkey Artfolios. I had the invites from Stamped Paper Company done to match, the cupcakes made to resemble them, and the color scheme went along with the gift bags as well. They were definitely the hit of the party, and days after too!"
Article continues below advertisement
OK! RED CARPET CONFIDENTIAL: TRISTA & RYAN SUTTER FIND BEDROOM BLISS
As for those delicious looking cupcakes, Trista tells OK! they were made by Simple Sugar Bakery — and came a long way just to be there for Blakesley!
"They are located in Denver, but luckily, Ryan's parents live there and could bring them up to the mountains for the party. We had two dozen mini cupcakes for the kids, three dozen cupcakes for the adults, and one jumbo cupcake especially for the birthday girl with two heart-shaped candles for her to blow out, after she sang herself 'Hap Bir-day Bakeswey,' — along with everyone else of course!"