NEWS
'True Blood' Cast Get Truly Naked on New 'Rolling Stone' Cover!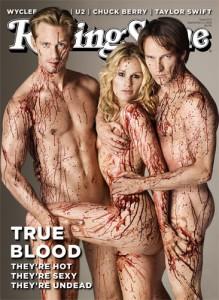 Alexander Skarsgård, Anna Paquin and Stephen Moyer are showing just how sexy the upcoming episodes of True Blood will be by stripping down and getting splattered for the new cover of Rolling Stone!
OK! GALLERY: TRUE BLOOD STARS VAMP IT UP
"To me, vampires are sex," Alan Ball, True Blood creator, tells Rolling Stone. "I don't get a vampire story about abstinence. I'm 53. I don't care about high school students. I find them irritating and uninformed."
Article continues below advertisement
Careful, Alan, Twi-hards are fiercely protective!
But Stephen Moyer (who plays vampire Bill Compton) agrees with Alan.
OK! GALLERY: THE VAMPS WITH THE SWEETEST BITE COME TOGETHER FOR COSMO
"If we go from a base level, vampires create a hole in the neck where there wasn't one before," he explains. "It's a de-virginization — breaking the hymen, creating blood and then drinking the virginal blood."
"And there's something sharp, the fang, which is probing and penetrating and moving into it. So that's pretty sexy," Stephen adds. "I think that makes vampires attractive. Plus, Robert Pattinson is just hot, right?"