NEWS
'True Grit' Star Hailee Steinfeld "In Shock" Over Oscar Nod; Justin Bieber Tweets Congratulations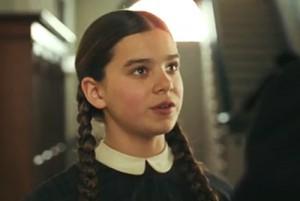 The youngest Oscar nominee this year, Hailee Steinfeld, could not be more excited for the big honor she received today — a nod for Best Actress in a Supporting role! The 14-year-old True Grit star shared her reaction to the big news, expressing her pride in the Coen Brothers-directed flick.
"I was asleep and I heard my mom and dad screaming in the other room. They came in my room with flowers," she told the Today show. "It was very exciting. It's incredible. I'm in shock. The film overall is incredible. To be a part of it all was amazing. I'm so proud of it all."
Article continues below advertisement
True Grit directors/producers/writers Joel and Ethan Coen are up for Best Picture, Best Directing and Best Writing (Adapted Screenplay), but they are remaining very humble about the film's success.
"Ten nominations seems like an awful lot," they told AwardsDaily.com, via MTV News. "We don't want to take anyone else's."
True Grit falls behind The King's Speech which leads the race with 12 nominations. The Social Network and Inception are tied for third, with 8 nominations each.
Justin Bieber Tweeted his congrats to pal Hailee, who he met at the Golden Globes.
"met at the Globes and she is super talented. CONGRATS to Hailee Steinfeld for being 14 and getting nominated for an OSCAR for TRUE GRIT!" JB Tweeted, adding "now Hailee get a twitter".
But if Hailee nabs the golden statue, she still won't hold the title of youngest Oscar winner. That belongs to Tatum O'Neal who won for Paper Moon (1973) age 10 followed by Anna Paquin for The Piano (1993) age 11.
And in 1934, at the age of 6, actress Shirley Temple was awarded an honorary Oscar for her achievements.
Catch Anna in the press room with her Oscar below!