NEWS
The Truth About Brad Pitt's Sexy Assistant: Six Things to Know About Lara Marsden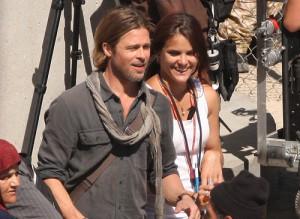 Article continues below advertisement
Angelina Jolie, who famously fell in love with Brad on the set of Mr. and Mrs. Smith, has reason to be worried about Brad spending time with the stunning 5-foot-8-inch brunette. She's seductive, artsy and she's obsessed with Brad.
"Brad swears there is nothing inappropriate going on, but it's still a huge sore point for Angelina," an insider tells OK!. "Her job is to help manage his time, but she goes way above and beyond. Lara waits on Brad hand and foot, gets his breakfast, lunch and dinner. She's stuck to him like glue."
OK! GALLERY: ANGELINA JOLIE & BRAD PITT BRING THE BROOD OUT TO DINNER IN SCOTLAND
Here's everything you need to know about the young British beauty who Brad can't get enough of.
1. SHE'S A YOUNG ANGELINA: Lara has more in common with Angelina than just her looks – her first name is the same as one of Angelina's famous characters – Lara Croft from Tomb Raider. And to make things even more coincidental, the Angie look-a-like is 25 years old – the same age Angie was when she filmed the 2001 flick that turned her into a sex icon.
Article continues below advertisement
2. SHE'S SEDUCTIVE: Lara is definitely not shy when it comes to her sexuality. She posts sexy bikini shots of herself on her MySpace page and openly talks about sex with a boyfriend. In one post she says, "We've f***** more times than there are drops of water in the sea."
3. SHE WANTS TO ACT: She studied film and media productions, and although she's busy working behind the scenes on Brad's World War Z, she says her goal is to act in a film. Lara even tested out her film-making skills by making a video titled: "How to make the perfect brew!!", in which Lara, dressed in only a loose-fitting tank top and panties, makes tea with a friend while performing headstands. Slightly risque if you ask us!
4. SHE LOVES ANGELINA'S MEN: She's very close with Brad, but Lara is also very fond of Angelina's co-star in The Tourist, Johnny Depp. As she explained on her MySpace page: "If I could go on a date with anyone it would be Johnny Depp - not just because he's so handsome and I want to have a million of his babies, but because I think he's a splendid actor!" Angelina shouldn't be the only one worried – watch out Vanessa Paradis!
5. SHE'S ARTSY: Just Brad's type! Lara plays piano and is an artist on the side. Maybe Brad — who's an art connoisseur — will buy one of the pencil sketches from her portfolio, which she showcased on her Facebook page and includes portraits of Johnny Depp, Scarlett Johansson… and Angelina!
6. SHE LOVES BRAD'S LIFE: Her list of likes look more like a list from Brad's bio! She writes on her MySpace page that one if her favorite films is Meet Joe Black, which starred a young Brad Pitt. She loves the TV show Friends, which of course starred Brad's ex wife, Jennifer Aniston. And although Angelina may not be a fan of hers, she's a fan of Angelina, saying on her MySpace page "she's amazingly hot - so hot it hurts!"