NEWS
The Truth About Regis & Lil' Kim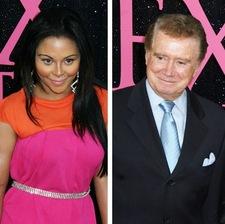 On Live With Regis & Kelly, co-host Regis Philbin makes no secret of his crush on rapper and Dancing With the Stars contestant Lil' Kim. And according to his on-screen partner-in-crime Kelly Ripa, Regis' heart truly does beat faster whenever he thinks of the petite 34-year-old.
"If anybody can get Regis to do the samba or the pasa doble, it is Lil' Kim," Kelly told OK! when we caught up with her at the Electrolux launch of Kelly Green washers. "He is really in love with her. He's been in love with her since before Dancing With The Stars. He's predicted that she's going to go all the way. He really loves her."
Article continues below advertisement
And in the issue of OK! that's on newsstands everywhere now, Lil' Kim reveals to OK! that she has a surprise planned for the 77-year-old chatterbox! What could it be?
"I can't imagine what it is. Maybe she got a tattoo of his name?" Kelly guessed. "Oh my gosh, that would be incredible. I'm hoping that's what it is, but I have no idea."
More importantly, what would make Regis happy?
"What would make him really happy is if she came on our show and maybe if she dedicated a song to him," Kelly said. "Maybe if she incorporated his named into a song? Or maybe if she tattooed his face somewhere on her person."
In fact, Kelly tells OK! she might even commerorate Regis and Kim's lovefest with a new tattoo of her own! "Maybe something that says Lil' Kim loves Regis," she laughs.
By Valerie Nome