NEWS
The Truth about the Spice Girls Reunion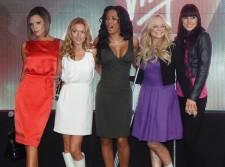 After weeks of hinting about another reunion, reports out of the UK confirm the Spice Girls are getting back together, but they won't be going on tour.
Instead, the ladies of Girl Power will star in a reality show in which they'll cast actresses to play them in a musical.
The TV show appeals to the Spices (who all have family commitments) since it won't involve much traveling, says the UK's Sun newspaper.
Article continues below advertisement
The idea for the new show is to audition girls to play Sporty, Scary, Ginger, Posh and Baby in a theater production in London's West End.
The real Spice ladies - Mel C, Mel B, Geri Halliwell, Victoria Beckham and Emma Bunton — will sit on the panel, judging contestants and giving them advice.
"This is an idea which appeals to all of the original members," says a source.
"The girls would have to work intensely on a TV show for a short period of time," the source adds, "but they then launch a musical which could run for months or even years. It will take on a life of its own."