NEWS
The Truth About Tiger Woods' Thanksgiving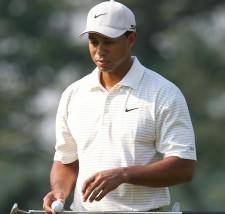 Elin Nordegren set a trap for Tiger Woods' mistress, Rachel Uchitel, sending the other woman texts from Tiger's phone pretending to be the golfer to gain proof of her husband's infidelity with the night-club hostess, according to a new report. 
The Daily Beast's Gerald Posner has conducted an investigation into the Tiger's actions on Thanksgiving, talking to two separate sources who explained exactly how Elin discovered her husband was cheating.
Article continues below advertisement
During the run-up to Thanksgiving, Posner alleges that Tiger warned Elin that the National Enquirer was about to run a story about his having an affair, reassuring her that it was false.
He even persuaded her to talk to Rachel and after a half-hour conversation Elin was satisfied that she wasn't sleeping with her husband.
However, The Daily Beast claims that on Thanksgiving itself Elin learned more details about the article and challenged her husband about the magazine's allegations again. Tiger put a stop to the discussion by taking an Ambien and going to bed.
Posner writes, "After Woods fell asleep, Elin looked through his cellphone, both sources confirmed. There she found text messages to Uchitel's number — Uchitel was apparently listed in Tiger's cellphone under her real name — and among them she discovered one that said, 'You are the only one I've loved.'
"Shortly after 1 a.m. in Florida, Elin began texting Uchitel, pretending to be Tiger, according to both sources. Elin wrote, 'I miss you,' and asked, 'When are we seeing each other again?'"
Article continues below advertisement
Rachel texted back, expressing surprise that Tiger was awake. Elin then called Rachel, who answered thinking it was Tiger calling. Elin said, "I knew it was you."
The article claims that Rachel responded with just two words: "Oh f***", and hung up.
The usually quiet and controlled Elin was so enraged she woke up Tiger by screaming at him. He was in a stupor from the Ambien but the fight quickly escalated.
Posner writes, "She simply exploded, trying to hit him on the chest and arms with her fists, and then finally chasing him from the house while she wielded a golf club.
"Shoeless, he ran into the car and barreled out of the driveway before careening off a fire hydrant and then smashing into a tree.
"Neither source said they knew the details of how the rear windows in the Escalade were knocked out, though one source says that the story Tiger told police at the accident scene about Elin smashing them in an attempt to free him from the wreck was a lie designed to protect his wife."
Tiger's reps didn't respond to The Daily Beast's requests for comment, neither did Sorrel Trope, a divorce lawyer who's been advising Elin. Rachel Uchitel's lawyer Gloria Allred said, "We have no comment on this."
Meanwhile, Elin is furious about the golfer's betrayal but sources say she'll wait for him to finish treatment before deciding whether to divorce him.