NEWS
Tuesday Night TV Roundup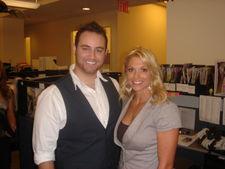 TV Fanatic and OK!'s Joyce Eng, Derek Ivie and Rana Meyer break down your fave shows of the night!
The Biggest Loser: I was lucky enough to meet Biggest Loser trainer Kim Lyons yesterday, and she told me she was surprised with this week's episode, especially the editing! The Losers are brought to play a dangerous game of poker where they bet with food instead of cookies. They are also told that their teams no longer exist and they will be put into trios. Whoever wins this game of deadly delectables has the power to control the trios. They all give in to temptation except Kai (their trainers didn't give into their cupcake temptations! Bad Losers, bad!) Jez wins control of the teams and ends up eating a lot of junk food! We see a blow out between Kim and Amy that comes out of nowhere, then Jillian steals Amy away from Kim (at least it looks like it does, hmm...). Kim is right, Amy is acting like a bratty teenager; she is always conniving and trying to screw everyone else over. During the last chance workouts we see Kim sneaking looks over at Jillian training Amy like a nasty high schooler! But I can't help but hear Kim's words echoing in the back of my head, interesting editing ey? This week the trainers do not accompany the Losers to the weigh-in. I liked it when they go with them. It was like a family going on a picnic together… a picnic of scale-filled goodness! That sounds like a terrible picnic. Where's the basket? Anyway, Amy loses zero lbs! Ouch! Ryan GAINS a pound! MADDNESS! Hollie loses 2 lbs. even after just having lost her mother. That's awesome! Neil steps up and gasps explode out of the mouths of the contestants! PLUS 17 POUNDS!!! INSANITY! The preview was right; this was the most dramatic weigh-in yet! Isabeau smells conspiracy; Cowboy confronts Neil ,who he says he is being honest; he doesn't know how he gained the weight. But Hollie catches Neil when he knows off the top of his head that a gallon of water weighs about 9 lbs. EVIL! Bob is enraged at the blue team and drops the F*bomb, a lot! Jillian even throws some sass at Neil. Poor Jez gets the axe -- you know Jillian is going to whoop some ass next week!" – Derek
Article continues below advertisement
Dancing With the Stars: The Results Show: "There was only one reason to
watch last night – to see if J.Lo would announce her impending arrival.
She didn't say anything, but her ballooning outfits are certainly
screaming loud and clear that girlfriend is expecting! And that baby-on-board is sure going to know how to shake it. Dressed in killer high
boots, mommy-to-be still got her groove on during her first number 'Do It Well,' and went old school performing her classic hit, 'Let's Get Loud.' Lesson
learned: Sparkles do camouflage a bulge! Oh yeah, Mark and Kym got sent
packing." – TV Fanatic
House: "Do you see dead people? Irene sure does. Patient of the Week is Irene, a funeral cosmetician who trims corpses' hair by day and sees hallucinations of the dead by night. She even sees her late mother, who's been dead since she was four! Irene throws the remaining Magnificent 7 for a loop with her ailment, leading the gang to treat her for Parkinson's and vasculitis, not to mention exhume a brain! I love how excited Kumar (Kal Penn) was to dig up the grave. He's clearly in the wrong business. Alas, the disease turned out to be Ergot poisoning related to moldy bread and the chick's organic diet. Elsewhere in Princeton Plainsboro, Chase was reduced to one surgery scene (note to writers: more please!), Cameron won $100 from House betting on when Big Love (Edi Gathegi) will lose it and Cutthroat Bitch (Anne Dudek) turned it up a notch by planting the late dog's collar to screw with 13's (Olivia Wilde) brain. Cutthroat Bitch is an interesting character, but her hyper-competitive antics will get old soon. They bought her another week this time. In another inspired vote-off, it was The Bachelor: House with peonies and the ever-endearing Ridiculously Old Fraud/Bosley (Carmen Argenziano) went bye-bye, but not without a sweet goodbye (and future date?) with House. What happened to the assistant position?! I'll miss you, Bos! And with one exit comes one return. After a series of unsuccessful interviews, in which it becomes obvious Foreman is incapable of spinning his Mercy axing into being the hero who saved a patient's life, he comes crawling back to Cuddy and has the balls to ask for a raise, an office and an assistant! Luckily, Cuddy gave him a lesson in humility: 'You're House Lite now. The only administrator that will touch you is the one that hired House Classic.'" – Joyce
Article continues below advertisement
Beauty and the Geek: This week's task was a full-on geek fest. The beauties had to go where no beauties had gone before, Comic-Con, a convention of comic books and superheroes. Most of these beauties I'm sure had never even read a book in their life, let alone a comic book. The task put forth before them was that the beauties had to come up with a new superhero and the geeks had to design a costume for them to wear as they presented it at Comic-Con. The characters that they created were all over the place. From a deep-sea ocean character who communicates with dolphins to a superhero who puts her enemies to sleep called 'Princess Bed-Head,' but the most ridiculous one had to be from Jen, who decided on a superhero who hypnotizes people with her boobs. I could not believe that her partner, William, did not slap her right there, but it wasn't because he didn't want to. This is one duo that is about to combust before our very eyes. I thought they were going to have it out right there on the floor when Jen overheard William saying that he should design her outfit to make her look fat. But unfortunately they just had to simple talk to try to work together better, but next week there could be some fireworks. In the end, Sam won the challenge again…. with his character of Metroman. This duo needs to be stopped and I truly feel that they have an unfair advantage. Sam doesn't seem as dumb as some of the other beauties, and Nicole definitely is not as clueless as some of the geeks. It will be interesting to see who eventually is able to take them down. — Rana
What did you think of the night's lineup?