NEWS
Tuesday Night TV Roundup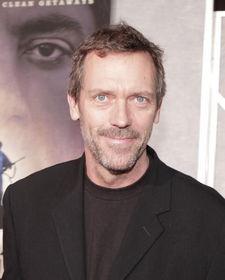 OK!'s Joyce Eng, Julie Gerstein and Rana Meyer break down your fave shows of the night!
House: House is back! So back that we're rewinding back to Christmas! Single mom Maggie (Janel Maloney) suffers paralysis in her hands and gets tested for breast cancer, which comes back negative. She causes more confusion when she announces she can no longer see. After going through Maggie's emails, House determines she has sarcoidosis based on the fact that she canceled a hiking trip and returned a Stair Master, but then her eyes start bleeding, so that's ruled out. Next up? Test the bones. However when Chase, who apparently is only going to be used in brief surgical scenes now, drills into her skull, something starts burning -- her bones. Yes, her bones, which are now harder than the drill! I was getting flashbacks of that statue patient on Grey's Anatomy, but I knew House peeps would never go that route. The group decides Maggie is suffering from chronic calcium deficiency and wants Maggie's daughter, Jane, to donate a bone marrow sample. Maggie disapproves, making House realize Jane was adopted and wants her to tell Jane as he was on quest for a pure truth teller throughout the episode. She doesn't, but Jane bluntly tells her mom she's dying. Ouch. And just when House is about to give up, he finds renewed hope and help at the holiday party with a reindeer-hat donning Wilson. When House tells him a "moose" doesn't belong on a Jew and dreidels don't belong on a Christmas tree, Wilson tells him "things don't care"...which means she has breast cancer! What? Every thing has its place, but it doesn't care where it is. Breast tissue, which developed when Maggie was a fetus, doesn't know it only belongs in breasts, so it doesn't care if it grows elsewhere! Brilliant! It turns out Maggie has a tumor in the back of her knee -- full of breast milk. Gross. Elsewhere in the episode, House tries to continue his "game" and create dissension in the ranks by giving his name to everyone for Secret Santa. But there will be no arguing from the newbies, especially not Thirteen, who totally saw it coming. We end with a cozy shot of the new and old teams (there you are, Cameron!) chilling at the party while House quietly walks out to go to church where his prostitute clinic patient had invited him earlier to watch her play the Virgin Mary. Simply amazing. You know he was just there to revel in the total irony! -- Joyce
Article continues below advertisement
American Idol: Last night Idol traveled to a new locale: little-big-town Omaha, Nebraska. Some say the Midwest is best, but it would be difficult to argue that after last night's Idol. Most of the auditions were revoltingly bad, though Idol judges Paula, Randy and Simon did slip 19 contestants the golden ticket to Hollywood.
As is usually the case, it's not the good performances, but the bad ones that are the best part of the show. A standout this time around? Sarah Whitaker, a dumpy, gothic former professional wrestler whose garish make-up completely contrasted with her over-the-top cutesy/affected audition. While her singing was painful, the "pain" she inflicted on Idol host Ryan Seacrest was hilarious. Demonstrating one of her prime wrestling moves, Sarah delivered a swift smack to Seacrest – doing something judge Simon Cowell's probably wanted to do for years now.
The charmer of the night? Final audition Leo Marlowe, a corn-fed blonde teen from one of the smallest towns in Iowa. Describing himself, Marlowe quipped, "My mom always said that she raised the perfect homecoming queen—too bad it wasn't one of her daughters." Marlowe's self-depreciating schtick went far with the judges, who also loved his raspy, soulful voice. We'll be seeing you in Hollywood, Leo. -- Julie
Article continues below advertisement
One Tree Hill: Boy, do I love me a flashback episode. It's been quite a mystery thus far this season as to why Peyton and Lucas were no longer together and those questions were finally answered. Flashing back three years, we were able to see Whitey again and watch Nathan back in action as the star of his college basketball game and Lucas along for the ride as assistant coach. But there was also a lot of foreshadowing involved. There was cute little 1-year-old Jamie and mom Haley getting all excited when Nathan hears Jamie say the word ball for the first time. Then, after winning the college championship game, Nathan gets heckled by another player from the losing team for his point shaving past. Nathan attempts to attack him, but is pulled away by Lucas. Whitey was not happy to see this and he lectured Nathan on the fact that one day he will do something he will regret if he doesn't get his temper in check. And boy, were they right. Not only did Nathan want Jamie to not play ball, but it was his temper that caused him to end up in a wheelchair. Back to Lucas, after the championship, he realized he missed Peyton too much so he hopped on a plane to L.A. to visit her, along with an engagement ring. Poor Lucas though, Peyton did want to marry him, just not now. It was so heartbreaking to watch, but I don't understand why they had to break up. Have they ever heard of a thing as a long engagement. And it was while Lucas was leaving L.A. that he got a call from this new editor named Lindsay saying that she wanted to publish his book. And look where that has led them? Lindsay is now his girlfriend and Peyton is now back in Tree Hill, still harboring feelings. The path that this one will take is anyone's guess. -- Rana
What did you think of the lineup?