NEWS
Tuesday Night TV Roundup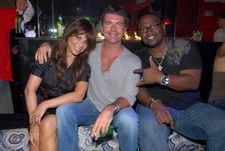 OK!'s Derek Ivie and Rana Meyer and the TV Fanatic and down your fave shows of the night!
American Idol: "The producers of Idol are deadly serious about finding a (financially) successful American Idol winner this season. After weeks of open auditions that barely showcased the crazies, Hollywood Week was equally subdued. Gone was the backstage drama of contestants trying to sync up for the group audition or getting themselves in trouble when they should have been rehearsing or sleeping. Nope, this Hollywood round was all about the singing. And the final 50 really had to sing like their lives depended on it.
Article continues below advertisement
My first thought of the night? Why did Ryan Seacrest open the show in so much eyeliner? It was frightening! He explained that of the 164 contestants fighting for a spot in the Top 24, nearly two-thirds will be cut on the second round of auditions. Wha??? If they screw up the first time, they're getting another round to impress the judges? There should be no second chances during Hollywood Week!
Some of the fans we fell for in the open auditions with heart-breaking tales, like single parents struggling to make ends meet Perrie Cataldo, Suzanne Toon and Angela Martin, don't get by on their gut-wrenching stories, and are cut after the second round of auditions. (I actually thought all three sounded good. Competition must be fierce!)
The performers who have been causing a little stir because of their previous near brushes with record fame (yep Michael Johns, Kristy Lee Cook and Carly Smithson, I'm talking to you!) make it through, no surprises there.
It was good to see Asia'h Epperson, whose father died days before her initial audition, and gravelly-voiced rocker nurse Amanda Overmyer, who survived a car crash, ace the Hollywood rounds. The same couldn't be said for Kayla Hatfield, who also suffered a car accident before her Idol audition in Dallas. She got cut pretty early. As least they spared us from watching Kayla, who wasn't really a great singer, presumably melt down in her Hollywood audition.
Article continues below advertisement
So, who am I rooting for? Plenty. There's adorable Kyle Ensley, who – yes I know – has a style better suited for Broadway, but I'm rooting for him anyway; cutie Ramiele Malubay 'cause she tiny with a big, fat voice, just like me; Josiah Leming, not because I love his voice – I don't – but I so feel his spirit; and David Cook. Two words for him: Hot. Rocker. Can't wait for tonight's Top 24 reveal!" – TV Fanatic
The Biggest Loser: "Turmoil erupts on the campus when the Black Team finds out that Jackie has been voted out. Dan is still upset that the brothers swore on their children that they wouldn't vote his mom out and in the end they did. The Black Team wants Jillian to take Dan on because they know the Blue Team will attack him next. Jillian says no and knows that Bob can handle his own problem. Bernie gets to make the trek to the top of the mountain to claim his prize for being the Biggest Loser last week. He picks the "Gameplay" envelope and gets 50% off at the challenge... mysterious indeed! Speaking of gameplay Dan decides to make a faux ending to his grudge against Jay and Mark to try and get an IN with his own team. This is then followed by a sappy blah blah apology. Pride on three? Lies. At the challenge the the Losers have to balance over water with the amount of weight they have lost, Bernie only as to hold 50%. The winner gets to give one person on their team and one person on the other team immunity. Biggest Loser host Alison makes a huge deal when people stand there for five minutes. Ummm, on Survivor they stay for hours and they eat rats! Black team wins and they give immunity to Maggie on their team (by way of picking out of a hat) and Jay on the Blue Team. Jillian brings her mom in to talk to the Black Team about their feelings. Was it weird for anyone else when Jillian spoke in a baby voice and kept saying "mommy" over and over, can you say awkward? The Blue Team on the other hand wants to "walk it out, not talk it out." That's the man team for ya! At the weigh in it all comes down to Jay on the Blue Team. He has to lose 5 pounds in order to send the Black Team to elimination, BUT he only loses 4. The Blue Team sends Trent home because of his family and stuff along those lines. The Losers are then told that they are all going home... more mystery! Today Trent has lost over 100 pounds. Rock on Trent!" – Derek
One Tree Hill: "A night at Tric turned into more tricks than treats than anyone could have imagined. The whole gang was out partying to see The Honorary Title perform as well as Peyton's new act, Mia. But then slutty nanny Carrie showed up to continue to flirt with Nathan. That girl is just a piece of work. And Nathan totally knows what's going on. How could he miss it when she blatantly told him that she knew he watching her skinny-dipping in the pool. Even at the end of the night, she went home with them and told Nathan she was going swimming and would leave the light on this time. Damn! Nathan needs to fire this girl and tell his wife what's going on. And also why is Carrie always there? Does she live with them or something? Little Jamie wasn't even home that night. In the meantime, Mouth was set up on a date with Millicent by Brooke, and they just make the cutest couple. She would be so good for Mouth, unlike that trampy boss he has to deal with. She had the audacity to threaten to fire him if she didn't get what she wanted out of him. Luckily, Mouth became the boy that Brooke used to know and threw Alice to the curb. Unfortunately, on the Peyton/Lucas/Lindsay side, there was not a whole lot of breaking up going on. Peyton finally admitted her feelings for Lucas and realized that she did want him back, but just when she thought he had gone home to break up with Lindsey, she got a slap in the face. He proposed to Lindsey! Huh? So that's what men do after making out with their ex, go home and propose? That doesn't seem romantic to me." – Rana