NEWS
Tuesday Night TV Roundup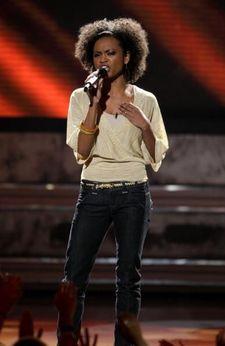 OK!'s Elizabeth Herr breaks down your fave show of the night: American Idol!
American Idol: "This week's theme: songs from the year the contestants were born. And most of our contestants? Really effin' young. There is exactly one person born before 1980. Thanks, show, for making me feel ancient at 30.
Ramiele Malubay took on Heart's 'Alone' (1987), even after others in the post-Carrie Underwood era have tried and failed to make an impression with it. I wasn't even really sold on Carly's version during Hollywood week. Ramiele is nowhere near the singer you need to be to make this work, and, surprise, surprise, she tanked. So, basically, after the judges told her last week that they wanted her to go bigger, she went for broke here, belting just for belting's sake (and doing it mostly out of tune). Simon backhand-complimented that she'll get through based on the fact that she survived an even worse performance last week.
Article continues below advertisement
Jason Castro continued his string of good song choices with Sting's 'Fragile' (1987), as well as his string of subdued, pretty performances (it's really lather, rinse, repeat at this point). He got almost belty (well, for him) at the end, which was nice. Paula broke out an old chestnut: He was safe in his zone, but that's who he is. Ay, there's the perpetual rub — the judges want to keep these guys in their little boxes, but then they criticize them for not being different enough. Simon thought he looked like he doesn't care, which, duh, he was probably high as a kite. But seriously, what do they want Jason to do? He doesn't know how to be any other way, and he certainly doesn't have it in him vocally to do any gymnastics.
Syesha Mercado finally had her wow moment with 'If I Were Your Woman' (1987). She hasn't been this good since… ever. Simon, strangely, refused to praise her too highly — maybe so people will vote? It was just good to see Syesha finally shine. I knew she had this in her, just wish she hadn't kept it bottled up for so long.
I'm a little worried that Chikezie may have peaked two weeks ago. That performance was so amazing that I have high expectations for everything else he does, and he's not living up to them. This week he was back on the R&B tip with 'If Only for One Night' (1985). The guy can sing, there's no question, but was he too old-school with the arrangement, as Randy thought, or is he, as Paula said, a great throwback? I think a little bit of both. I also agree with Simon, though, that Chikezie's personality seemed to have gone missing. He needs to keep taking chances and switching it up if he wants to stay in this thing.
Article continues below advertisement
I said last week there was nothing Brooke White could do to make me dislike her; that's still true, but she cracked my resolve a bit with the Police's 'Every Breath You Take' (1984). The little do-over at the beginning didn't faze me, but the arrangement did. If she had just stayed with the piano, it could have been interesting (Randy and Simon thought so too), but then the full band came in and it was all so middle-of-the-road. Also, I take issue with people who don't get the intent behind these lyrics, and Brooke's dewy-eyed delivery makes me think she doesn't.
The award for most over-praised of the night goes to Michael John's 'We Will Rock You/We Are the Champions' (1978). This is what he chose to do here? Really? This isn't a song you sing, this is a song you pump your fist to at sporting events. The judges fawn all over him. I don't get it. Is it because he's hot?
'Total Eclipse of the Heart' (1983) is one of my favorite songs, and I am totally jealous of anyone who can hit those Bonnie Tyler power notes; ergo, I am totally jealous of Carly. Yeah, the run at the end was gratuitous, but she sang the hell out of this. Simon thought something didn't quite work, and I get that. I've been having a hard time connecting to Carly myself. There's a detachment to her performances that her perfect voice can't quite make up for.
Article continues below advertisement
David Archuleta did 'You're the Voice' (1990), some crappy song I've never heard of. But apparently schlockmeister David Foster covered it, which signals high-treacle territory ahead. Simon's critique is the only one that matters here: He found it reminiscent of a theme park performance. Yes! There was something very Up With People about the whole thing.
I am disgusted, but not surprised, that Kristy Lee Cook picked a song — 'God Bless the USA' (1984) — it would be impossible to criticize because who's gonna talk trash about patriotism (even if it's gross, jingoistic patriotism)? This made me sick to my stomach.
Thank god David Cook closed the show, because that David A./Kristy Lee one-two punch killed my soul. This was nothing more than a note-for-note rendition of Chris Cornell's version of 'Billie Jean' (1982), so I do call bs on the judges saying how original David is, as if he'd come up with the arrangement all on his own. But regardless, it was fab (what else do you think I'm going to say?) and heads and shoulders above pretty much everything else we saw last night. Simon thinks David could win this whole thing. Fingers crossed!" -- Elizabeth