NEWS
Tuesday Night TV Roundup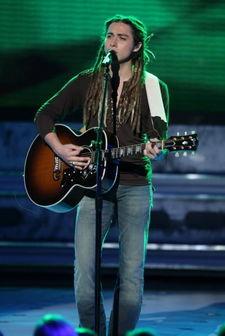 OK!'s Elizabeth Herr recaps your favorite Tuesday night show!
American Idol: Isn't Ryan Seacrest just so precious with his lame April Fools' joke? I wish this whole show had been an April Fools' prank. Don't get me wrong, I love me some Dolly Parton, but overall, not a great night.
Brooke White noted that even though Ms. Parton is tiny, she's huge. If you know what she means, and I think you do. So, she did "Jolene," with a bluegrassy vibe and Brooke on guitar. This is one of my favorite songs, and as great as it was to hear it, there's probably no one who could have done it to my liking, not even Brooke. Simon Cowell thought she looked like a busker, which was harsher than she deserved. This wasn't one of her best, but it was still not horrible. Also, for whatever reason, Brooke got all kiss-ass over Paula Abdul's hair. Well, positive reinforcement is important, but I don't think it can stave off the fashion disasters she still has in store for us this season.
Article continues below advertisement
Speaking of hair, guess who got a hot new cut? David Cook! I admit I was skeptical of how he'd acquit himself with Dolly. What were the odds that there'd be some death metal version of "Little Sparrow" out there for him to riff off? But Ms. Parton was pretty impressed with him (of course, she didn't really have a bad word to say about anyone). The verdict? His arrangement (which wasn't ripped off of anyone else) worked; he went to his emo wheelhouse and effectively de-countrified the song. Plus, that falsetto! Simon, notorious hater of all things country, congratulated David on making a song about sparrows good. Sorta wish Dolly had been at the judges' table to pop him one for that remark.
Ramiele Malubay is tiny like Dolly, but she certainly can't match her when it comes to actually, you know, singing a song well, as evidenced by her ruination of "Do I Ever Cross Your Mind." Paula thought she connected – yeah, with my gag reflex. And then Simon said what we all know to be true: It was forgettable and cruise shippy. She looked really upset, and Ramiele, sweetie, I feel for you, but the tears won't save you from the bottom three.
Article continues below advertisement
Dolly called Jason Castro funky-looking (it was a compliment… I think), and it's hilarious to ponder how perplexed she must have been by his whole patchouli-stinking vibe. "Travelin' Thru" was a good fit for him, regardless of the religious overtones (seriously, lots of JC references last night). He seemed to have learned some new vocal tricks – maybe he does have the gymnastics (low-impact, at least) in him after all. Simon hated it (again, some more). I don't know, Jason had been in a rut and this actually made me sit up and take notice. He might be in trouble, but he shouldn't be, not for this.
Isn't the Dolly version of "Here You Come Again" really peppy? It sucked that Carly Smithson made such a downer of it. Once again, what else can I say about her? She hits all the notes, sounds great technically, but I just don't feel anything. Simon hated her styling above all else, and really, that's usually the last thing I notice, unless they're wearing something totally offensive (hi, Ramiele). Then Simon lied to Ryan about how he does like country, he just doesn't like these performances. Right. Say it with me, people: Simon hates country.
Article continues below advertisement
It was all Dolly could do to keep from losing her false eyelashes around David Archuleta. Ha! Can she be awesome on this show every week, please? The boy wonder with the wacky stage daddy treacled all over "Smoky Mountain Memories," but the judges still wet themselves. Ugh, he's so over-rehearsed. As my co-worker Karen said, David is whatever the male version of pageantry is.
Dolly told Kristy Lee Cook her mom would be proud of her. That's right, because Dolly sure isn't. "Coat of Many Colors" is about hardship and growing up poor, not about looking cute and being bland. KL does not have enough life experience or awareness of the world around her to make this work on any level. I don't have the energy for her anymore, even though I know she'll be here for at least another week (why, America, why?).
I expected that Syesha Mercado would choose the Whitney Houston version of "I Will Always Love You" because how could she resist? She didn't belong in the bottom three last week, but this was another story. She was show-offy and awkward, smiling and mugging through what's supposed to be a heart-wrenching song about letting the love of your life go. You could tell how proud she was of that one (horrible) note she held for a million years. After Simon ripped her apart, she looked like she couldn't believe he didn't fall all over himself to praise her superior vocal powers.
Michael Johns got the sweet spot last night, and "It's All Wrong, But It's All Right" was, shockingly, the pièce de résistance of an otherwise lackluster evening. Where has this bluesy, sexy, commanding guy been for the whole competition? This is what I've been waiting for him to do. He's finally made me love him and, I can't believe I'm saying this, he easily bested David Cook. Here's hoping he doesn't screw his momentum up next week. – Elizabeth