NEWS
Tuesday Night TV Roundup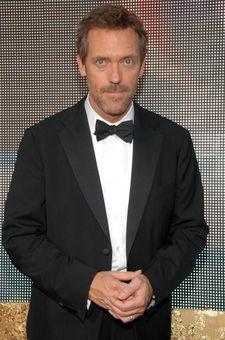 OK!'s Joyce Eng, Derek Ivie and Rana Meyer break down your fave shows of the night!
House: "Patient of the Week is Mr. Finn (Steve Valentine), a magician whose nose starts bleeding while he's submerged in a tank of water. Kumar/Kutner, who was on a guy date with Big Love at the show, thinks he's ill; House doesn't, but lets him start tests and a blood transfusion. He also extends another task – "Bring me the thong of Lisa Cuddy" because they must break the rules without being caught. Loved the "That's how I got hired" from Foreman. Can someone say "delayed sense of humor"? Taub and Cutthroat Bitch produce a black thong, but House knows it's fake because Cuddy is wearing a red bra and "downstairs" must match. Big Love delivers the red one, earning immunity and the right to name two people to the chopping block, one of whom would be fired. Everyone clamors to get on his side except for Thirteen, whose mystery is revealed after she incessantly twitches thanks to House, suspecting Parkinson's, switching decaf to caf on her. It turns out her mother passed from Huntington's and she never tested herself for it because she'd rather not know if she's going to die, even rejecting the results House gives her at the end – which he trashes as well. On the other end, Finn knew he was going to die after another profuse nosebleed and seizure. Tests show massive internal bleeding and House thinks it's amyloidosis, but everyone's against him and Kumar believes it was a bad blood transfusion. House orders them to give him the blood because he's AB like Finn and he gets sick – and faints thanks to Thirteen drugging him! Girl came to play! She's so hired! After a discussion with Wilson over blood types, House realizes the problem and confirms it with Finn – his blood type isn't AB, it's A. His body produced extra B antibodies to masquerade as AB, which means he has...LUPUS! "We finally have a case with lupus." Yes! At elimination, Big Love nominates CTB and his buddy Kutner. Whoa! What gives? House figures it out – Big Love struck a deal with Cuddy to surrender Kutner after his defib accident a few eps back made him a liability. Because of that co-conspiracy, Big Love is a goner! While it was slightly unfair since House never stipulated how they were supposed to get the thong, it did make sense as the assignment was to undermine Cuddy, not to scheme with her. The only way he would've made it out alive was if he turned against his deal with Cuddy and put someone else up for axing. Tsk, tsk, Big Love." – Joyce
Article continues below advertisement
Beauty and the Geek: "With just three couples remaining, it's down to the final challenge. So the three pairs head off to a local winery to participate in the traditional stomping of the grapes. At the vineyard, the partners had to be tied together as they ran up a hill to pull grapes off the vines. The funniest pair to watch was William and Jen, who have just hated each other from day one. To be that close to each other definitely made this much more challenging for them. But as they raced to stomp their grapes and get enough to fill three wine bottles, it was dark horses Jasmine and Dave who came in first place and automatically advanced to the finals, sending William and Jen, and Sam and Nicole to the elimination room. Surprisingly, this turn of events forced William and Jen into really buckling down and working together to prepare for elimination. But when it came down to it, it was too little, too late. And they just couldn't beat such a strong team as Sam and Nicole. But the sweetest part of the night had to be when geeky Dave finally told geeky Nicole that he liked her and that they should go out to dinner when they are finished with the game. Awww, he is so cute. But unfortunately, it looks like his little heart will probably end up getting broken. Nicole has said she'd love to hang out with him, but doesn't see it going anywhere. Poor Dave!" – Rana
The Biggest Loser: "We start where we left off. Amy just ended her tirade and was kicked off the Biggest Loser Campus. The Losers were handed envelopes that had photos of them at the beginning of the season. Allison tells them that she has a surprise for them, but they have to wait until tomorrow. She then brings them to NBC Studios in Burbank where they are brought to the set of Days of Our Lives. They are surprised with makeovers! After the makeovers (where they mingle with stars of the Days of Our Lives cast) they are brought to a large three sided mirror. There they all reflect on what they once looked like and how far they've come. Little do they know that behind the mirror is a loved one from home. Everyone freaks out and it is amazing because they have no idea. Neil and his girlfriend are adorable and Kae and her husband were the best. He couldn't get to her fast enough. They both cried and I cried and my mom cried and I bet everyone on set cried. It was perfect. They then go to a photo shoot for prevention magazine. One of the contestants will be featured on the cover of the magazine. (It is Kae!) The Losers then enjoy lunch with their loved one, but unfortunately that is all the time they have. They are sent to a challenge where they have to climb up a falling rope to stay above a giant yellow line. GET IT? Kae wins, and I personally think her military background helped her in this challenge. She won a $5000 shopping spree to be used when she goes home AFTER she loses more weight. I thought that was pretty cool. At the weigh-in Kae and Nicole fall below the yellow line. Bob is devastated to know that one of his team members are going home. In the end Kae is sent home because she is the biggest threat. At her live weigh-in she is reunited with Bob and reveals she has lost 88 lbs. all together. She looks amazing! She has lost 39 percent of her body weight, more than any other Loser in the history of the show! Amazing job Kae! You have definitely made everyone proud!" – Derek
What did you think of the night's lineup?