NEWS
TV Addict: Dulé Hill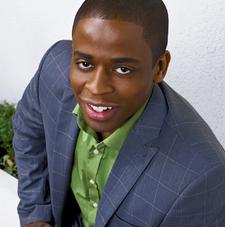 The Psych star reveals why he's dancing — even while he's on the set.
Favorite TV spot?
My living room couch.
Favorite TV show?
Heroes. It's cool how these people always felt different, but turned out to be extraordinary.
Favorite TV snack?
Tea with ginger crisps.
Your TV crush?
My wife Nicole Lyn isn't on TV now, so it's Ugly Betty's Ana Ortiz.
You tap danced as a kid. Favorite dancing series?
So You Think You Can Dance. I have a board set up in my dressing room so I can keep tapping.
Article continues below advertisement
Are you like your Psych character, Gus, in real life?
I'm not into random information, and I'm not as anal. I take more risks.
Who would you love to have guest star on Psych?
Kadeem Hardison, just because he's Dwayne Wayne. I would love to have A Different World back on TV.
Interview by Delaina Dixon
Psych airs Fridays at 10 p.m. on USA.