NEWS
TV Fanatic Goes Sci Fi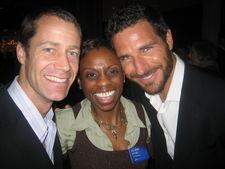 Two good reasons to watch the Sci-Fi Channel: Eureka's Colin Ferguson and Ed Quinn. The show's two majorly cute stars cozied up to me at the network's 2008 Upfront Party in New York City last night, where Ed revealed the big twist in Eureka's upcoming season.
"I've been told we're going to go to a half-hour format, work in a gas station and live as friends in the same apartment building," he laughed. "No, I don't know what's going to happen. They don't tell us anything. I just know when we go back." Ed personally wants to see the show return to its roots from the first season. "I think it will take a turn back to the lighter stuff we first saw and be more of a dramedy," he shared. "Maybe it will be a blend of the past two."
Article continues below advertisement
Another two good reasons to watch the network: Film goddess Rosario Dawson is executive producing a new series, True Believer, which will follow the escapades of a pair of unlikely superhero crime fighters. 30 Rock's Tracy Morgan is taking over the hosting duties for the network's reality creep-out series, Scare Tactics. "It's gonna be huge," whispered an insider.
I had to talk to the baddest ass girl on the network, Battlestar Galatica's Katee Sackhoff, who holds the distinctive honor of being the most popular female celebrity TV crush in OK!'s TV Addict section. "I think guys are fascinated with a woman who can dress up in a dress and spar in a boxing ring," the buffed gal shared.
That's a good enough reason to keep my training gloves stashed in my Prada handbag!