NEWS
TV HUNK DISCOVERED: Adam Gregory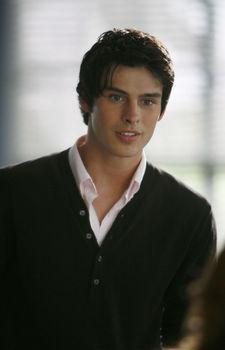 If Jennie Garth and Shannen Doherty aren't enough reason to tune into the new 90210, here's another: Adam Gregory.
The 20-year-old actor plays Ty Collins, the hottie Annie snagged for a date during her first week at West Beverly Hills High. (If only all high school transplant dating stories went like that!)
I rang up Adam to find out about his new TV role and just how much of the award-winning musical Spring Awakening the school's drama club will act out on our screens tonight. (According to Adam, it's a lot!)
Article continues below advertisement
Tell me a little about Ty.
The background on him is he's the rich mysterious guy at school all the girls wish they could date. He leaves lot a girls broken-hearted.
Really? Annie should watch out then.
But he's kind-hearted. He opens up a lot of his heart.
Tonight is the high school's opening night of Spring Awakening.
You're going to see a few different scenes from the musical, which is pretty cool.
Are you a singer in real life?
I studied musical theater in college. I'm not great, but I'm not bad. I hold my own.
What musicals did you star in?
I was Marius in Les Mis. I did South Pacific and a bunch of classics.
On their first date, Ty flew Annie to San Francisco. What's the most extravagant thing you've done for a girl?
For a girlfriend I had back in Ohio, I laid out all these different mementos to celebrate our anniversary.
Do you have a girlfriend now?
I am single.
What type of girl do you like?
Just a smart, intelligent, fun, charismatic and spontaneous woman. Someone who would wear some sweats, that be would nice.
A girl who doesn't mind chillin' in sweat pants? Time to get our own transfer to West Beverly Hills High!
Catch 90210 on Tuesday, Sept. 23 at 8 p.m. on The CW.