NEWS
TV HUNK DISCOVERED: Generation Kill's Rudy Reyes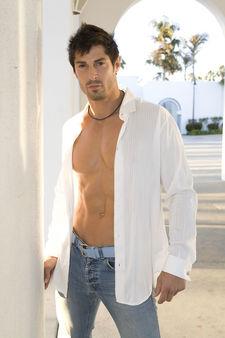 If you caught Generation Kill last night, the HBO mini-series chronicling the first Reconnaissance Battalion serving in Iraq in 2003, you may have noticed a Sgt. Rudy Reyes in a cheeky scene (pun intended).
That was no stunt double. The real Rudy Reyes plays himself in the series.
Rudy, 36, stopped by the OK! office to tell us about reliving his tour of duty onscreen, and more importantly, about his status as his platoon's sex symbol.
Article continues below advertisement
"I always had the best skin – all over," Reyes laughs, before revealing to me his super-sculpted body secrets.
"I drink lots of water, and I train all the time," he says.
Rudy's positive nature also helped him survive his two tours in Iraq. "I was the eternal optimist," he shares. "I'm very spiritual, come from a martial arts background. I was a kickboxer and devout to Buddhism."
Rudy was actually brought in to school Generation Kill's producers on the Marine's way of life during battle. "I was teaching them about hand-to-hand combat and obstacle course work," he says.
After coordinating all the demonstrations, he was approached about the role.
"I think they were casting for me and they just didn't find the right guy," Rudy says.
"So they asked me a few weeks later. I said, 'Ok, I look like him, so I'll try it out.'"
Now the retired Marine is concentrating his efforts on invading Hollywood. Along with his blossoming acting career, he's producing his own series of fitness videos. "I swim, run, I do triathlons and mixed martial arts, I power lift and I'm very into parkour fitness," he says.
Article continues below advertisement
Rudy also volunteers his time to raise funds for other military vets. He was the featured man candy on the cover of the 2007 American Heroes calendar.
And this sex symbol is ready to settle down. Brad Pitt-style. "I want somebody to have children with me in the next few years. I'm looking to start a family," he reveals. And one lucky lady may already have the inside track.
"I'm seeing this wonderful woman in New York City," he teases.
No, it isn't me (but wouldn't that be sweet!).
Catch Generation Kill, the mini-series, Sundays at 9 p.m. on HBO.