NEWS
TV HUNK Discovered: Grant Bowler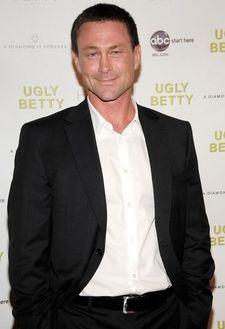 On Ugly Betty, Meade Publications has a new employee, CFO Connor Owens. CFO definitely stands for cute financier, oh yeah!
Knowing this is a character I could seriously invest in, I called up Grant Bowler, who plays Connor, to find out his statistics. Grant revealed that Connor's alliance with Daniel is going to go south, fast.
"He kind of dumps that agreement with Daniel and lets it be known he's not going to be a stooge for him," Grant reveals. "Connor's playing for his own team and pretty much making his own decisions."
Article continues below advertisement
That includes getting into bed with Wilhelmina, literally.
"There's kind of a budding relationship between them," Grant reveals. "And it gets hotter and hotter. You could say the water's done, and you can throw the vegetables in.
Well, Wilhelmina did say she likes to get her needs met!
The Australian transplant is having a blast working with his co-star Vanessa Williams.
"She's been fantastic," he says. "We had full day of shooting scenes in a hotel room and I laughed all day. It's a great way to spend a day at work."
With Ugly Betty now being shot in the Big Apple, Grant is taking full advantage of his surroundings when he's not working.
"New York's changed so much since last time I was here," he says. "I've visited the Museum of Natural History, the Bronx Zoo, lovely Park Slope and Brooklyn. And Alphabet City is a much nicer place to go for a drink at night."
But does Grant miss anything about his native Australian homeland? "At the moment, the temperature," he exclaims. "It's coming into the summer now. So when I phone home, everybody is telling me about having just coming from the beach."
Thank goodness Connor has Wilhelmina to keep him warm.
And if she doesn't work out, I also happen to reside in the Big Apple!
Catch Ugly Betty, Thursdays at 8 p.m. on ABC.