NEWS
TV HUNK DISCOVERED: Jason Gedrick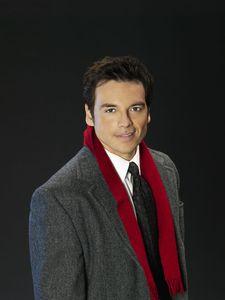 Desperate Housewives alum Jason Gedrick (he tried to seduce Lynette with his spaghetti carbonara!) is back on TV in The Christmas Choir this week.
The hunky TV vet plays a harried accountant whose life is made richer when he starts a Christmas choir at a homeless shelter. The story is based on true events, Jason tells me.
"We were gifted with a performance of the real choir. Well, it's not so much a performance as a singing free for all," Jason shares. "It's got it's own harmony, and the men seem to have certain peace that you envy, and they express it so vividly and vibrantly."
Article continues below advertisement
Jason told me about his own holiday miracle with his son Jian on a Christmas day from seasons past. "He was 8-years-old, and I was on location, so I was buying extra gifts for not being around," he shares.
"That morning, my son and looked at this huge pile of presents and said, 'Don't you think that's going a little out of control?' He put them all in a plastic bag and said, 'Dad I don't need this stuff, let's go give to kids who really do.'"
Jason and his son stopped at an orphanage in Santa Barbara and began distributing toys. "He gave away all his gifts. It's was so emotional, even today," Jason recalls. "My 8-year-old son got it and he was able to give that much joy. He truly humbled me."
We're sure the apple doesn't fall far from the tree, Jason!
Jason belts out a few chords himself during his holiday movie. But he abandoned any notions of being a singer when his son Jian, now 18, was born.
"While he was in his mom's womb I would sing him "Twinkle, Twinkle Little Star." When he was born, he wasn't breathing, and nothing worked, until I started singing, and he started bawling on cue," Jason recalls. "My voice is so bad, he was willing to take that big gulp of air to get me to stop."
Better stick to the cooking when you want to impress the ladies, Jason!
The Christmas Choir airs Saturday, Dec. 6 at 9 p.m. on Hallmark.