NEWS
TV Hunk Discovered: Jay Thames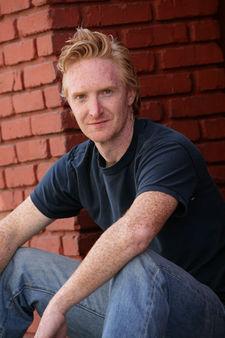 On Sons of Anarchy tonight, the gang merges with a rival motorcycle tribe, much to the chagrin of the Sergeant-at-Arms, played by primetime newcomer Jay Thames.
Jay doesn't say much in the episode, but the camera lingers on him enough to see he's not pleased with the decision.
And long enough for me to declare the sexy redhead as the next TV Hunk Discovered!
"He's not happy," Jay confirms of his character's weary sentiment. "This means the Sons of Anarchy now have access to our girls, guns, booze and drugs, all of it."
Article continues below advertisement
Jay looks tough on screen with oversized tattoos and that penetrating gaze, but he laughs about being a biker in real life.
"I've ridden four motorcycles and I've crashed them all," he says. "Me taking them out in heavy traffic is not too smart."
He has a brief make-out scene as well. "Well, I'm single," Jay admits, adding he likes a woman who is opinionated. "She has to be able to express herself. Intelligence is a huge turn on," he explains.
Jay grew up in Texas and did a stint in the Big Apple before moving to Los Angeles to pursue his career.
"I did quite a few independent movies in New York City and some other jobs to make money. I was an electrician for VH1 and installed video consoles for IBM," he shares.
Jay made the big move to Los Angeles in 1999, and revived another creative passion.
"I started writing from the moment I got into town and starred in a film I co-wrote called Automatic," he tells me.
Sons of Anarchy is his first episodic series, and he hopes to be on for a while.
"I think there's a strong possibility," he says. "It's a great group of people on a great show."
Which is just great for Jay -- and me!
Sons of Anarchy airs Wednesday, Sept. 24 at 10 p.m. on FX.