NEWS
TV HUNK DISCOVERED: RUPAK GINN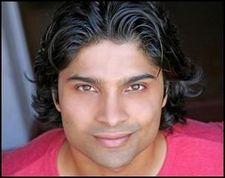 When you watch The Cheetah Girls: One World tonight, you may yourself salivating over Rahim, the hunky Bollywood star who's secretly in love with his movie's choreographer, Gita.
Sensing that you would want to know all about Rupak Ginn, the 25-year-old actor who plays Rahim, I cornered him during TCA to get all the scoop.
Unlike the Cheetah Girls, who find themselves fighting over the same role in Rahim's latest flick, there's enough of this interview to go around for everyone!
Article continues below advertisement
The Harvard graduate was originally expected to pursue a career in medicine, just like his parents.
"They are both doctors, so there was obviously some pressure to be one," he told me. "But I was doing theater. Freshman year of college, I thought, I'm going keep doing this because I love it so much."
Rupak definitely has dramatic flair, especially when it comes to romance. He wooed his wife, Nancy, while he was still a sophomore in college!
"She was a senior and had finished her last exam of her college career, so I left strawberries, champagne and ice in her room," he shared.
"That was the first really sweet thing I wanted to do for a girl and that's when I knew I was serious."
The shower of affection hasn't stopped since their wedding in June 2007.
"Last Christmas, instead of giving her a present, I decided to give her an experience. So I said meet me at the Port Authority terminal in New York City, took her on her on bus, and two hours later we were in Atlantic City gambling at the Borgota.
We totally approve!
Catch Rupak in The Cheetah Girls: One World on Friday, Aug. 22 at 8 p.m. on the Disney Channel.