NEWS
TV Hunk Discovered: Sanctuary's Robin Dunne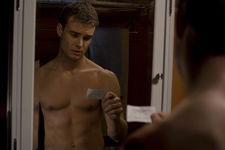 I'm not much of a sci-fi fan, but I'm totally tuning in to see cutie Canadian Robin Dunne star in the new series Sanctuary, premiering this Friday.
He plays Dr. Will Zimmerman, a forensics psychiatrist who gets involved with a safe haven for strange and scary creatures that have spent most of their life in hiding.
"These abnormals are hunted by society," Robin explains. "We find them and take them to this house where they are protected."
Article continues below advertisement
Show scoop! Robin reveals that Will, who just ended a two-year relationship with his girlfriend, will get cozy with one of beings he protects.
"There is a surprise new love interest that makes life really quite interesting, the whole concept of having a romance with an abnormal," he reveals.
I'm always a sucker for a love story with a twist!
Robin has starred in creepy thrillers like Skulls II and Species III, and admits his love for the sci-fi genre.
"At the risk of sounding like a cliché, I loved Star Wars. I think it contributed to me getting in the business," he confesses. "So for me to be on a sci-fi show is a lot of fun."
With its bizarre beings and even stranger locations, Sanctuary is shot mostly in-studio in front of a green screen. So when Robin travels off set, he really gets away.
"I'm often careening around. I love to see different parts of the world," shares Robin, who just returned from a trip in Italy. "I went to Capri, and though 'OK, this is a place where I belong. I could die here,'" he laughs.
Don't break out your passport just yet. Robin confesses that he's happily involved.
I'm pretty sure that's of the human variety.
Sanctuary premieres on Friday, Oct. 3 at 9 p.m. on SCI FI.