NEWS
TV Hunk Discovered: Scott Michael Foster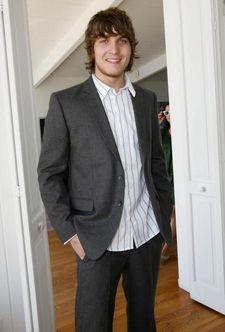 If you were one of the 10 people who caught the single episode of Quarterlife that aired on NBC, you may have fallen just as hard as Dylan did for Scott Michael Foster. Of course, if you're a true TV Fanatic, you already know that the 23-year-old hunk can regularly be seen playing Cappie on the ABC Family series Greek. School's back in session when the show returns tonight for its second season, the perfect time for me to do a little homework -- on the versatile actor.
Article continues below advertisement
On Greek, you play the president of a college fraternity.
Cappie's the person who takes charge and is a big brother to all the guys in his fraternity. I think he's escaping his real life through his fraternity and leaves all his problems there, and is trying to escape his infatuation with his ex, Casey. He's trapped.
That doesn't really sound like the life of the campus party frat president.
He's deep. That's the character you don't see (laughs).
Is Cappie getting back with Casey now that she's broken up with Evan?
We did see a little spark between him and Casey at the end of last season. But now Cappie is expanding his relationship with Rebecca, Casey's nemesis. We'll see that relationship grow a little bit.
But Cappie and Casey belong together!
That's probably true. Just because it's not happening now doesn't mean they won't be together in the future.
Article continues below advertisement
Were you a real-life party animal in college?
I didn't really go to college. I started working when I was 18, so I guess you could say I was on the more focused, serious side. But it doesn't mean that I don't like to go out and party.
Are you living your college experience through this show?
These are all my college friends right now, my co-stars on the show. I have to be thankful because there is a part of me that always wanted to go to college. I would actually love to study theater, maybe even outside of this country.
What's the craziest thing you've ever done for love?
(Laughs) I don't know if I've been in love, but someone I deeply cared about and couldn't let go, I kept buying her gifts even though I knew it was over. They just kept stacking up at my house!
You're a sensitive guy.
Yeah, you can say that.
Are you single now?
I'm not dating anybody.
What do you look for in a woman?
It's hard to say. When you see someone, you just kind of know she's cool. She needs to be nice to other people and like dogs, because I have a dog. She needs to work, be nice and like dogs.
Which character are you most like in real life, Greek's Cappie or Quarterlife's Jed?
I would say I'm more like Cappie because Jed can be a little wimpy. Cappie's a fun character. He lives for the day and is all peace and love. I would like to aspire to those traits.
Greek returns Monday, March 24 at 8 p.m. on ABC Family.