NEWS
TV Recap: The Biggest Loser 6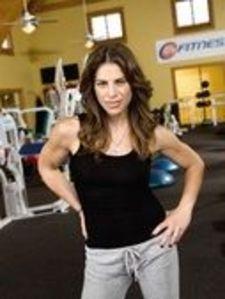 You got to love Amy C. You knew she knew exactly what she was doing when she got rid of Brady last week as Bob pointed out how in season 3 Eric sent his biggest threat and former fellow Blue team member Marty home and then won the game. Amy's simple response? "I know." You. Go, Girl. Of course, that means his wife Vicky spends the next hour of the show calling you a back-stabbing b*tch. But hey, you can take it.
Article continues below advertisement
Allison borrows K.I.T.T. from Knight Ridder to show up on the ranch and tell the contestants their next workout will have an eighties theme. It's Bob and Ed in short shorts! Jillian gets all Flashdance with the Black team. Even after Bob goes all Jane Fonda on his team, the tension between Amy and Vicky can still be cut with a knife.
The challenge is to hold half your body weight in water above your head and answer eighties trivia questions. Every time you get one right, you can add water to someone else's bucket. But get it wrong, and water is added to yours. Let go of the rope and you're out of the game, but not before being splashed Nickelodeon slime-style. Michelle and her mom Renee are the last two standing, and Michelle promises her mom a new handbag if she lets go. Hey, accessories are worth a loss! Michelle wins a one pound penalty to put on another team player, which she winds up giving to Vicky.
Jillian puts her team through a last chance workout and proves once again she really is sadistic. Her arms are looking RIPPED!! The Blue Team hits their last chance workout too, since they know that being on the team with Amy does not guarantee she'll vote for them if they fall below yellow line.
The contestants head into weigh-in and all pull impressive numbers. Sweet Coleen only shed three pounds and falls below the yellow line. Hey girl, you already down to 167 and looking good! In a move that can't be scripted, penalized Vicky just misses staying above the yellow line. Who once again has the swing vote? Amy. Wonder if Vicky's eating her words right about now.
The vote is split for Coleen and Vicky, and it's Amy turn. And she votes out Coleen. Surprise? Not really. Amy knows she'd be next on the chopping block if she didn't stand behind her team the second time around. She'll get her chance to pick them off, one by one, when she's good and ready. Yes, Vicky, there is a new player in town, and she's hitting you hard, just like a treadmill.