NEWS
TV RECAP: The Biggest Loser 6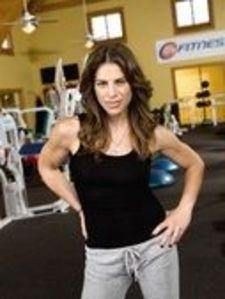 I knew it. There was going to be a twist for the penultimate episode of BL6 that would throw off the final three players of the game. And in this case, it's a doozy! But I digress….
With Renee voted off last week, Michelle is the only Black team member left on the ranch. She cries about her mother leaving, while the Blue team jumps for joy on their beds – literally. As much as Bob wants an all Blue-team sweep in the finals, it's impossible to root for them. They are all just so heinous!
Article continues below advertisement
But this gives the show plenty of time to focus on Michelle, who is a gorgeous girl and is looking amazing! (I actually thought it was Jillian in the black tank top doing cheast press ups on the bar during their last chance workout!) Jillian gives her uplifting "Look how far you've come, girl" speech, and Michelle realizes, "Yeah, I have," which makes her want to work for it even harder.
In contrast – we see Bob asking Vicky what she's learned during her ranch experience. Her answer? Nothing. Nothing about why she gained the weight and what will give her the strength in the future to keep in off. Silly girl! Bob points out that the first Biggest Loser, Ryan Benson, has gained all his weight back. Her fears that for Vicky. I do too.
The four finalists come together for a brief moment to burn the clothes they first wore to the ranch. They say it symbolizes their fat days, and they vow to never go back. Okay, maybe Vicky has learned a lesson or two…
This week's challenge is that the final four have to put back on the weight they've lost, in weighted vests, kneepads and booties, and run a racetrack taking off the amount they lost each week and several pit stops. Ed takes an early lead, but Michelle is right on his tail. Still, Ed takes the prize – The Bigger Loser meal plan for his whole family and $10,000. Not bad at all.
Article continues below advertisement
More time is spent with the Losers reflecting on their weight loss journey. To be perfectly honest, Michelle is the only one with an interesting story. I fast-forward through the rest.
Time for the weigh-in! They weigh the Blue team first. The numbers for Vicky and Heba are respectable: 6 and 7, respectively. Then Ed gets on the scale, and he's gained two pounds. Can you say game play? Bob can!
But it's Michelle who blows them all away with a 9 lb. weight loss. She's on the top of the heap, sending Ed and Heba both below the yellow line.
That's when Alison announces that America will be voting for the third finalist. Ed pretty much confirms he threw the weigh-in when he and Heba plead their case to America, and he tells us to vote for his wife. "I don't need this as much as she does," he explains.
Heba's all whiny as she says she was the biggest gal on the ranch and had the most weight to lose, blah, blah.
So now, America, what will you do? Follow Ed's wishes and vote for his wife Heba – which will guarantee Loser's next female winner with its all-gal finale?
Or will you vote for Ed, who seems like a genuinely nice guy and was willing to sacrifice himself for his wife's honor?
Yep, looks like the final game play is in our hands!