NEWS
TV RECAP: Desperate Housewives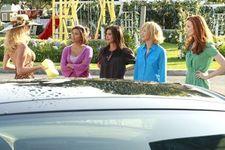 Okay, stupid me. Why I didn't see that Dave is the husband of the late Lila Dash and her daughter – the mother and child killed in the car accident when Mike Delfino was behind the wheel several years ago – I'll never know. After spotting their ghostly images all over Wisteria Lane, Dave went to their grave and vowed to avenge their deaths by taking away the same thing Mike took from him. That doesn't bode well for Susan and her and Mike's son MJ.
Article continues below advertisement
Speaking of MJ... Like his mom, he's really not happy that daddy Mike is with Katherine. And since he's only five, he can show it by throwing ice-cream in Katherine's hair and dropping a bowling ball on her foot. You got to give it to the kid, he's creative! The reason behind his unruly behavior? He tells his dad that Katherine can't be around because he and mommy are getting back together. Susan then admits that she and Mike have never really told each other that they are truly finished. A tragedy broke them apart. Could the almost-tragedy of whatever Dave is planning to bestow on Susan and MJ bring the Delfino family back together? BTW: Most interesting storyline twist for Susan this season. About time, thank you!
And since we're on the subject of sons, Porter finally did arrested for the fire at the club. Tom wanted to use the family emergency money to pay his $20,000 bail, but that's when we learned that Lynette had used that money to get Anne to leave town, and then Anne's abusive ex threatened Porter, scaring him into fleeing as well, which meant Preston had to show up in Porter's place for his arraignment, and Lynette couldn't admit why they couldn't tell the judge it was Preston, not Porter, because that would mean Porter's bail money would be collected, and the family would lose their restaurant. Complicated? Indeed!
Article continues below advertisement
Bree was another mother out to protect her son. After meeting Andrew's new boyfriend, the doctor!, she learned that her soon-to-be son-in-law had starred in a gay porn film, information delivered by her lovely neighbors, Bob and Lee, who Lynette and Orson invited to dine with them and Andrew and his life partner. (I wonder if inviting over a same sex couple when meeting your child's same sex partner is a tip in Bree's entertaining book!) Bree confronted Andrew who, thankfully, admitted he knew about the film. He thanked his mom for caring so much to bring the information to him. Yes, appearances are important, but protecting your child from that which could hurt or harm him comes first, even for Bree.
Carlos finally started getting his sight back, only to learn that Gaby had sold his most prized possession, a baseball signed by Lou Gehrig. He demanded she get it back, which Gaby did by dancing on a table for a rich Italian. Now that is true love! But as Carlos' sight came more into focus, he saw just how much Gaby had sacrificed while he was blind – including all her beautiful designer frocks. So he sold the baseball and brought her what must have been her first designer dress in years. Carlos also promised that he would spend the rest of his life making it up to her. Funny how the Wisteria Lane couple that started in the most turmoil (remember Gaby's affair with the gardener season one?), now has the strongest bond on the block.