NEWS
TV RECAP: Entourage, Glam God, Monica Seles and Olympic Medalists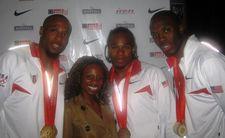 Fashion Week has begun!
On Wednesday, I attended Samsung Presents: The Red Thread, a private soiree honoring the work of fashion designer Valentino Garavani.
Vivica A. Fox showed up at the midtown gala with one goal in mind. "I need to touch his hand, a true Glam God, and tell him what beautiful dresses he creates," the reality series hostess declared to me.
Since I haven't worn Valentino – yet – I asked Vivica what it's like to slip into one of his fabulous frocks.
Article continues below advertisement
"It's like butter, baby," she purred. "When you wear Valentino, you feel like a queen."
Well, I already have a tiara. Catch her new series, Glam God with Vivica A. Fox Thursdays at 10 p.m. on VH1.
My fashion moments with the rich and famous continued on Thursday as I joined The Real Housewives of New York City's Jill Zarin and Brad Boles for a ladies luncheon celebrating the work of designer Zang Toi. (Eva Longoria and Fergie are fans.)
Brad, who had just gotten back from vacationing in Morocco, told me that the drama in the series upcoming second season is "off the hook. Season one doesn't even hold a candle. It's pretty intense."
That includes Jill flipping out over his redesign of her Manhattan home. "I'm finishing the interiors on her house right now," he revealed. "She texts me every day because a contractor or electrician doesn't show up. My advice to her is there aren't problems, just solutions."
Article continues below advertisement
Oh, but the problems are so much more fun to watch!
With all the parties I'm hitting next week, keeping my weight in check ain't going to be easy.
That's why I'm psyched I attended a taping of Knock Out the Fat with George, a web series. Dancing with the Stars alum Monica Seles celebrity judged a winning meal made by four contenders competing to eat healthier and lose weight using the George Foreman G-Broil Grill.
Inside the USTA National Tennis Center Hospitality Village Thursday morning, Monica revealed to me her secret to keeping off 35 pounds.
"It's all about moderation, learning to tell yourself 'I'm full, I really don't need to eat more,'" shared Monica, who does her fair of healthy cooking on her own Foreman grill.
"The thought of never eating bread, chocolate or pasta is just not worth living. Finding a balance to still have those foods and lose or maintain the weight, that's the way to do it."
Article continues below advertisement
Chocolate, yum!
My super athlete moments didn't end there.
I ended the night meeting Olympic medalist USA track stars Angelo Taylor, Walter Dix and La Shawn Merritt at a private gathering at New York City's Friar Club.
Who would they get to play them in the movie of their incredible feats in Beijing?
"Denzel Washington," contemplated La Shawn.
"Jamie Foxx, because he's my favorite actor," shared Walter.
And for Angelo? Fellow Georgian Chris Tucker. "We're from the same team," Angelo declared.
A movie I wouldn't want to miss.
Post Script. I'm kinda digging Kevin Connolly after seeing him at Entourage's fifth season premiere screening after-party, held at the New York's mammoth lounge Mansion Wednesday night.
When some of his friends who were not on the list showed up at the party. Kevin didn't send a minion to fetch them.
He made his way to the door himself to make sure they were escorted in.
Just goes to show even if you have access to the velvet rope, you don't always have to act like it.
Until next week!