NEWS
TV Recap: Inside Discovery Network's TV Upfront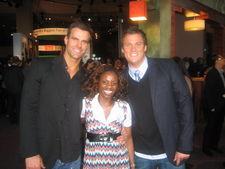 I was sitting in the simulcast room for the Discovery Network TV upfront on Wednesday, diligently taking notes, when Jennifer Lopez walked on the stage.
She had made a suprise appearance to announce her partnership with TLC to produce a reality series based on her life. After screaming out an expletive and scaring potential TLC advertisers, I raced down to the lobby to try to speak with the new mom and soon-to-be celebreality star.
Article continues below advertisement
No such luck, she had slipped out the back. I was told by an eyewitness that Jenny from the block looked radiant, if not a little tired, in that way new moms who aren't getting enough sleep often do.
I did get a chance to catch up with Mel B and Joey Fatone, who will be sparring against one another on the new TLC reality series The Singing Office. The Dancing with the Stars alums will ambush separate work spaces, and select a team of coworkers who will take on the new project of preparing for their singing stage debut. "They are put in boot camp, and they'll learn to sing and learn choreography," Mel shared with me. While Joey's advice to his team will be "not to be nervous," Mel will be looking for "passion. I want to believe that you're really enjoying the song and really listened to the words," she said. The winning group, which is decided by the audience, wins $50,000. Nah, that wouldn't make me nervous at all!
I hung out with the nicest guy in showbiz, soap star/DWTS alum/TV host extraordinaire Cameron Mathison, who's got his own new show, Your Place or Mine. Cameron explained, "It's a cross between and game show and a makeover show. Families are going to be vying against each other to have different rooms in their house redone." The twist? The opposing family team can steal control of the game – and a room – which is literally ripped out of the other families' house. There will be no loaning cups of sugar with these neighbors, that's for sure!
Article continues below advertisement
Bob Guiney, who is currently hosting the TLC series Date My House, was also on the scene. The former Bachelor has high hopes that this year's rose-giving man, Matt Grant, will be the one who actually makes it to "I do" with his reality bride-to-be. "I think this time it could work out, I really do," says Bob. "I think Matt's going to find true love and steal the hearts of America."
My most exciting moment of the night? Hearing Bob offer up the smartest suggestion I've ever heard for the next Bachelorette (Deanna Pappas starts her reign on May 19). None other than yours truly! "You'd be perfect for it," he declared.
Are you listening ABC? I promise I'd make it to the altar!