NEWS
TV Recap: Jonathan Rhys Meyers and Miss Guided's Judy Greer!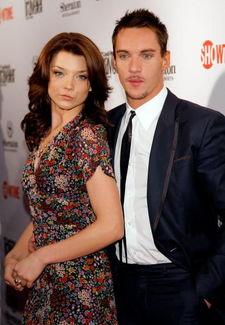 Showtime knows how to get me to brush up on my world history. Just bring Jonathan Rhys Meyers back as King Henry VIII in another season of The Tudors. I attended the series' second season premiere party Wednesday night in New York City and got to stare into the king's devious eyes. Jonathan teased on whether he'd be back for a third season. "I don't know yet," he said. If I'm ever going to find out how Henry's story ends, he better be! My colleague, Ali Puliti, chatted with Natalie Dormer, who plays queen Anne Boleyn and has some very major makeout sessions with Jonathan onscreen. "It hottens up the bedroom," she laughed. "We are very lucky that we have this onscreen chemistry that works, but other than that girls, I'm sorry, but it's just another day at work." Yeah, a day at work I'd never be late for! Check out The Tudors, season two, when it premieres Sunday, March 30 at 9 p.m. on Showtime.
MORE ON:
Jonathan Rhys Meyers
Article continues below advertisement
I also caught up with Judy Greer, star of the new ABC series Miss Guided on Thursday morning as she held the adorable Cottonelle puppy at the Cottonelle Comfort Haven Bus outside of New York City's Grand Central. Judy's on a mission, and she's starting at the bottom, working with Cottonelle on their 'Be Kind to Your Behind' campaign. "I love our show's teamsters, but they're always stocking the trailers with these ginormous cheapest toilet paper there is," she complained. "I'm always thinking how insane would it be if I had my own roll of Cottonelle in my set bag. Does it make me seem like I have a bathroom problem? Or maybe it makes me seem like I care about comfort." Judy's also working on a Cottonelle sweepstakes that will send 10 winners and their guests on a luxurious California retreat. No, they don't throw in the puppy. "I want to dognap it," Judy joked.