NEWS
TV Recap: Partying with Bravo's Hot Shows!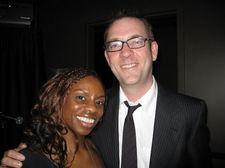 I was in stitches when I got my annual invite to the Tresemme Project Runway Finale screening party, held at the Tribeca Grand Hotel in New York City. Season four designers were in full force as we sipped cocktails and hung out with Top Chef's Ted Allen, and they recalled for me their experiences on the show.
"It was like fashion camp and the military," Kevin Christiana exclaimed, adding he made his favorite outfit during the weight loss challenge. The openly straight designer also got schooled — on gay culture! "I've been in the minority, but it's very embracing," he said. "It's a whole other world I didn't know about when I was growing up… I'm having a good time. And I'm going to a hell of a lot of gay bars with these guys!"
Article continues below advertisement
Fourth place finalist Chris March had an amazing time on Runway. "I just don't have words to express my gratitude for having me on the show," he gushed. Chris loved the avant-garde challenge. "It was a chance to be so creative and have so much fun, and I worked with Christian and we won!" The fabu designer is already filling up his work card. "I got some celebrity red carpet, some TV and some Broadway offers." Unfortunately, he's not whipping up an outfit for Paris Hilton, who's rumored to be taking over a role in Chicago on Broadway.
Runway mentor Tim Gunn had kind words for the season's winner Christian Siriano. "I just wanted him to attain the highest level of achievement he could," Tim said. "I'm confident over what he did, and he won." Along with the fifth season of Project Runway (which is about to start casting), Tim spilled he'd be back with his own show, Tim Gunn's Guide to Style. "We'll be taping shows this summer," he revealed. Good to know Tim, 'cause I'm still waiting for that closet you promised!
I also popped into Bravo's premiere party for The Real Housewives of New York City, held at Touch lounge in midtown Manhattan Monday night. I got to meet devoted mom and fabric mogul Jill Zarin and her adorable daughter Allyson. Learning where I work, Jill exclaimed, "We love OK!." Good to know our magazine appeals to all tax brackets!
DVR This! I was one of the 12 people who actually tuned in for the network debut of Quarterlife on NBC last week, and was just a little bummed to hear it had been canned by the network after one episode. Luckily, Bravo is hosting a marathon of the entire series on Sunday, March 9 starting at 8 a.m. Thank goodness! Watching it in eight minute snippets on the Web would have just been so tedious!