NEWS
TV RECAP: Weekly Adventures in a TV World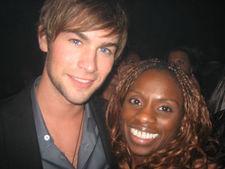 The CW's hot new teen show, Gossip Girl, threw a premiere party Tuesday night at Tenjune in Mahattan's trendy meatpacking district. If I gotta redo high school, this would be the way to go. Not only would I be rocking designer dresses at school dances, the guys are major hotties.
I made a beeline for Penn Badgley, Chace Crawford and Ed Westwick, who play Dan, Nate and Chuck; the good, the golden and the bad boy on the show, respectively. Must have been my lightheadedness that made me declare, "in your dreams," when Penn asked if he had met me before. (I missed my midday snack!) Bold introduction aside, Penn explained why to me his character is the most relatable of the bunch.
Article continues below advertisement
"He doesn't live that lifestyle the rest of the characters live, which is so unimaginable and outlandish," Penn said. "But he does have some darkness brewing inside. He's sort of a tortured artist, very soulful." It's a trait Penn shares with his character. "Music is my first passion -- soul music -- it's my thing," he revealed. "In fact, whenever I can, I try to bump D'Angelo in interviews because he doesn't get nearly as much credit as he deserves." Consider it done.
Chace laughed that while Nate is the privileged All-American, "he still smokes a lot of pot." While their characters may be backstabbing one another, Chace admitted the cast is bonding off the set. "We're all like best friends who hang out for each other's birthdays and on the weekends," he shared. "We can't keep away from each other for a minute. "
That's good news for Ed. Originally from England, Ed's been having a grand ole time in the Big Apple. "Everyone has just moved here, so it's fun dealing with this great place. I love everything about it." Ed swore he's not quite as evil as his onscreen ego. "We can all be a bit bad now and then," he told me. "With Chuck he kind of takes it to another level, but I try to be a gentleman."
Article continues below advertisement
Emmy winner Katherine Heigl wasn't the only woman to have an "oh, bleep" moment when she received her award Sunday night. As HGTV crowned Kim Myles its New Design star Sunday, the New York City hairstylist drew a blank. "I just saw the confetti, it was a very out-of-body experience," she confesses. "I had to watch the finale again to see what happened." Kim, who will get her own design show on the network, has some ideas of the type of series she hopes to launch. "Something fun and fresh, that taps into my sense of whimsy and allows me to be fearless with color," she explains. "Being playful is definitely my secret weapon," Feel free to come over and play up my studio any day, Kim!
I attended Diddy's Unforgivable Fragrance launch party on Thursday evening, which was gob smacked with celebrities, including Beyonce, Jay-Z and Serena Williams. Highlight of the night? Having Ashton Kutcher, who got his start on That 70s Show, wave to me, and me alone, on his way out the night's festivities. Hey, that's how I'm remembering it!