NEWS
TV RECAP: Weekly Adventures in a TV World: Gone Country, Celeb Meltdowns and Miss America!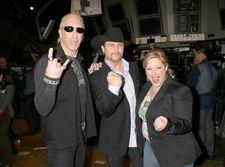 It's a good weekend to stay home and watch TV!
Tonight, six celebrities from different music genres try their luck in Nashville on the new reality series Gone Country, airing 8 p.m. on CMT. Not only will these singers take on the music, but they'll also try to live the country lifestyle, yee haw! In the first episode we meet the brave sextet: Sisqo, whose already halfway there since he sings about clothing; Carnie Wilson, who's got a mouth that can rival any trucker's; Dee Snider of the awesome 80s hair metal band Twisted Sister, whomust have realized realized that Bret Michaels has already sealed up the dating an aging rock star scene; American Idol runner-up, Diana DeGarmo (well, it worked for Carrie Underwood!); Julio Iglesias Jr. – yep, I didn't know he had another son who could sing either; Maureen McCormick of The Brady Bunch fame, who missed out on her singing career because of her parents (read about it ); and the infamous Bobby Brown, and we know what happens when he stars in a reality show! They all shack up together in a pimped-out farmhouse and learn how to twang and drawl from Big & Rich's John Rich. "Imagine Dee Snider from Twisted Sister and Bobby Brown sharing a room together for two weeks. Just imagine that," John Rich says. "Anything that could've happen pretty much did." Yep, like Maureen and Bobby discovering they're BFFs, eew… Gone Country premieres Fri., Jan 25 at 8 p.m. on CMT.
Article continues below advertisement
Saturday, the line-up gets even hotter!
E! counts down the juiciest celebrity freak-outs in 25 Most Sensational Celebrity Meltdowns, which includes such gems like Anne Heche, Mel Gibson and Alec Baldwin. E! won't reveal who's got the top slot, but here's my guess: hello Britney!! The two-hour countdown premieres Sat. Jan. 26 at 5 p.m. on E!
I'll finish out the night watching our brilliant editor-in-chief, Sarah Ivens, help crown the new Miss America Live! from the judging panel. The competition begins Sat., Jan, 26 at 8 p.m. on TLC.
Let the cold come! I'll stay warm with my remote control!