NEWS
TV RECAP: WEEKLY ADVENTURES IN A TV WORLD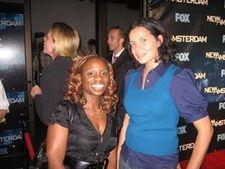 To glam it up for New York City's Fashion Week and the New York Television Festival, I met with celebrity hairstylist at his Madison Avenue salon. He's coiffed the manes of Ugly Betty's and The New Adventures of Old Christine's , and is currently beautifying tennis stars at the US Open (airing on USA). "I want you to have big, fluffy, sexy hair," he whispered seductively in my ear before adorning me with sexy, show-stopping ringlets.
Article continues below advertisement
I then hit the television festival for Fox's special screening of the New York produced series New Amsterdam. Danish born actor plays John Amsterdam, a 17th century settler who has lived in the Big Apple for the past 400 years (his rent-stabilized apartment has gotta be dirt cheap!). As a New York homicide detective, John uses his immense knowledge of the city to solve crimes. I caught up with his onscreen partner and alum of HBO period drama Rome, , who confirmed that playing a man who's lived through four centuries has turned Nikolaj into an onscreen Casanova. "He gets to kiss a new girl every week," she exclaimed, referring to John's flashbacks where he recalls his lovers over the years. Zuleikha classified the time-bending series as a love story since John can not end his immortality until he finds his soulmate. "And I'm a sucker for romance," she laughed.
I also stopped by up-and-coming designer 's spring fashion presentation on the Lower East side. The models were rocking bone straight, backside-grazing hair, courtesy of stylist who works at Arrojo salon. That's in , the hair transforming guru from my favorite reality make-over series, TLC's What Not to Wear. See, everything in life really can be related back to TV!