NEWS
TV Weekly Recap: Adrian Grenier and Thom Filicia!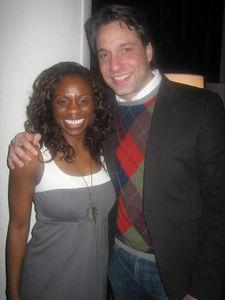 Nothing like having a lazy Sunday afternoon brunch.
That's exactly how I started off the week, chowing down on glazed ham at the Bud Light One sponsored holiday brunch, hosted by Ugly Betty's Ana Ortiz and She's Got the Look judge Robert Verdi.
I cornered Robert, who styles Eva Longoria, to find out what the Desperate Housewives star would rock at next month's Inauguration celebrations in our nation's capital.
Article continues below advertisement
"We've haven't started anything yet," he admitted to me while curled up on the couch at the Luxe laboratory in midtown Manhattan. "Eva and I always have a little conversation before we pick an outfit to decide what the look will be, like short with sequins. Then I start pulling clothes."
Sequined and short. Sounds like a good start to me!
On Monday, our newest OK! addition, Will Reiter, stopped by the Charity Water Ball, held at the Metropolitan Pavilion, and chatted with the event's host, Entourage's Adrian Grenier.
Adrian was pretty mum about the upcoming season of his signature series, only revealing that the boys will be back in production this March. "It's all top secret," Adrian said of season six's storyline.
Just like the next Aquaman script? You sure know how to pique our interest, Vincent Chase!
Thursday I attended a holiday party hosted by interior design guru Thom Filicia to celebrate his new book, "Thom Filicia Style," at the George Smith furniture showroom.
Thom's tips on decorating for the holidays? "It's been a tough year, so don't be afraid to personalize your look," suggests Thom, who starts shooting the fourth season of Style Network's makeover series Dress My Nest next month.
"Light lots of candles, make lots of cocktails and have lots of friends and family around."
Don't worry Thom, we will.
Until next week, fellow fanatics!