NEWS
TV WEEKLY RECAP: Fashion Week!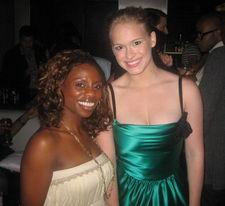 What a wild, ready-to-wear week!
The catwalk was en vogue as New York City turned itself out for Fashion Week featuring the looks for Spring 2009.
Tuesday night, I made my way to the opening of De Santos, a new Italian eatery in the Village, and met William Buckley, who appears in the upcoming series Stylista.
Try as I might to sway William with promises of goodies from Z Zegna and Calvin Klein, he stayed mum about what happens to the 11 contenders slaving for Fashion News Director Anne Slowey, in hopes of earning an editor position at Elle magazine.
Article continues below advertisement
"Drama is drama, but fashion drama? That's on a whole other level," he teased. "You'll have to watch!"
We're setting our DVRs. Stylista premieres Wednesday, Oct. 22 at 9 p.m. on The CW.
On Wednesday, OK! and Gen Art threw "Britannnia Rules," our own fabulous soiree to honor the work of British born Georgina Chapman of Marchesa and other designers.
Leven Rambin, who stars on Terminator: The Sarah Connor Chronicles, told me how her character Riley would help bring John out of his shy shell.
"She's kind of wild and out there, and she's really going to help him see the more fun side of being a teenager," she shared.
Could that fun include a romance between Riley and the leader of the future world?
Leven blushed and nodded yes.
Ugly Betty's Becki Netwon, 30 Rock's Katrina Bowden and Dancing With the Stars' Karina Smirnoff also made an appearance on our red carpet.
Thursday morning, I attended Project Runway alum Malon Breton show. Who was sitting across from me in the front row? Make Me a Supermodel finalist Ronnie Kroell.
Article continues below advertisement
The Chicago native has permanently relocated to NYC to pursue his modeling careeer. And yes, he still sees his old friend Ben from time to time.
"Ben and his wife also moved here," said Ronnie. "This is really the place to be to chase the modeling dream."
Ronnie, who walked in Gen Art's fashion show last week, is plotting his return to Bravo TV.
"They're working on season two of Make Me a Supermodel, and I got to see the cast. It's a great lineup," he said.
"Hopefully they'll be bringing us back for a little cameo here and there."
We'd love to see Bronnie, part II!
I ended the night watching past America's Next Top Model winner Jaslene Gonzalez tear up the runway in the Custo Barcelona show. You work it, girl.
NEXT WEEK TEASER: Make sure you tune for The Hills on Monday, Sept. 15 at 10 p.m. on MTV. Electronic rock pop band will be making its memorable guest appearance. It's good to have friends that work for Epic!
Until next week, fellow Fanatics!