NEWS
TV WEEKLY RECAP: Liza Minnelli and newborns!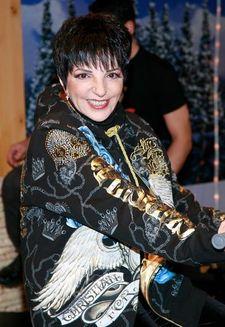 It's been a pretty gray, rainy week in New York City, not the kind of conditions I like to run around in.
Thank goodness my dear friend and fellow reporter Anthony Grant braved the weather to meet up with Liza Minnelli on Tuesday at the Duracell Power Lodge in midtown.
Didn't hurt that he's her biggest fan!
On behalf of Broadway Cares/Equity Fights AIDS, Liza hopped on a specially-designed snowmobike to help Duracell capture power that will illuminate the iconic numerals 2-0-0-9 as the New Year's Ball drops in Times Square.
Article continues below advertisement
The living legend is also kicking up her heels in her new Broadway spectacle, Liza's at the Palace. We had to know, would she be bringing this show to TV, just like she did with Liza With a "Z", which first ran on TV 36 years ago?
"Yes," she said.
"When," my friend dutifully pressed on.
"Yes is the best answer I can give."
Hey, it's better than "maybe!"
And it only took a phone call to get an update on the brand new buddle of joy for Lipstick Jungle star David Alan Basche and his wife Alysia Reiner, who stars on The Starter Wife. The cutie couple welcomed their first child, daughter Livia Charles Basche, on Dec. 5.
"Livia is just beautiful. She's tall like her mother at 20 ½ inches and was born in the caul," David said. (Biology Lesson: in the caul means still inside the amniotic sac!) "Legend says that means she will have an amazing intuition."
Lucky kid! Check out the new mom in The Starter Wife's season finale, tonight at 10 p.m. on USA.
Until next week, fellow fanatics!