NEWS
TV Weekly Recap: Nigel, Sandra Lee and Dolly Parton!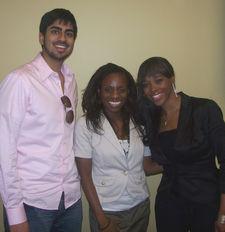 What a week!
Not only did I have a visit with Idol castoffs Lil Rounds and Anoop Desai (read all they had to say in the upcoming issue of OK! magazine, on sale, Thurs. May 7), So You Think You Can Dance judges Nigel Lythgoe and Mary Murphy popped in too.
I asked the question everyone is dying to know: Will Sex be back?
"Yes, David is back," Nigel revealed. He refuses to call Sex, a.k.a. David Soller, by his self-appointed stage name. We can relate.
Article continues below advertisement
"This time we put him through," Nigel declared.
O.M.G. That's going to be TV that cannot be missed.
Look for Sex and the rest of the So You Think You Can Dance crew to return Thurs. May 21 at 8 p.m. on Fox.
I also enjoyed a delicious breakfast made by semi-homemade queen herself Sandra Lee at a launch party for her new cooking show, Sandra's Money Saving Meals.
On the new series, Sandra teaches cash-strapped families how to best shop the grocery stores for the best prices on food, and then whip up those thrifty purchases into an incredible meal.
"It's is an aspiration, it's attainable and it's affordable," she shared.
Sandra's Money Saving Meals premieres just in time for Mother's Day, Sunday, May 10 at 12 p.m. on the Food Network.
Still the week wasn't complete until I was on the red carpet for the opening night of 9 to 5: The Musical, now running at the Marquis Theatre on Broadway in New York City.
(You may recall, 9 to 5 was actually turned into a TV series in 1982 and returned to air in 1986!)
Article continues below advertisement
There I met the gracious and amazing Dolly Parton.
Even though she had done a slew of video interviews on the carpet, the petite country diva was kind enough to return over to us print reporters saying, "Sorry I didn't mean to skip you all."
Oh Miss Parton, all the more reason to love you!
FYI: If you're a fan of the NYC Housewives, the network is hosting first ever live ultimate virtual viewing party for the finale of The Real Housewives of New York City, Tuesday, May 5 at 10 p.m. on Bravo. Fans of the show can chat about the series via Twitter, Facebook Connect, and live mobile chat!
Until next week, fellow fanatics!