NEWS
TV Weekly Recap: Running in Heels and Wonder Woman, part 2!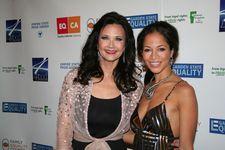 To make it to the top, you got to start at the bottom.
That's the underlying theme of the new reality docudrama, Running in Heels.
The show takes us inside Marie Claire magazine, where three interns are getting their first taste of the glamorous life.
But it's not all Manolos and Prada, according to Marie Claire editor-in-chief Joanna Coles.
"There's a fabulousness about it," she told me at a private screening party at celebrity hot spot Goldbar on NYC's lower East Side Monday night. "But there is also a flip side: Celebrities behave badly, fashion designers can let you down and models don't show up for shoots."
Article continues below advertisement
Sounds just as catty as you would expect the catwalk to be. But Joanna reveals the real hissing spats are between the interns.
"Yes," she admits about the girls having drama. "Some of the time."
You know that means every single episode! Running in Heels premieres Sunday, March 1 at 8 p.m. on Style Network.
On the west side of town, In Treatment's newest star star Sherri Saum was having her own Wonder Woman moment with Lynda Carter, who sang in the Defying Inequality musical fundraiser supporting equal rights at the Gershwin Theatre.
"She looked like a supermodel, she's so beautiful," said Sherri of Lynda, who will be performing again at Jazz at Lincoln Center March 13 and 14. "I had the Wonder Woman theme song running through my head when I met her."
Sherri also revealed that her character, Natalie, may return to Rescue Me this season.
"They kind of left things unfinished," she says of her character. "I'm just waiting for the call."
So get those sirens wailing!