NEWS
TV Weekly Recap: Wonder Woman and Real Housewives NYC!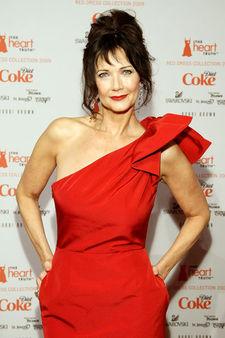 As a kid, I ran around my house with paper cuffs on my wrists and pretended to jet off in my invisible plane.
So you can imagine my awe when I ran into Wonder Woman herself, Lynda Carter, at The Heart Truth's Red Dress Collection 2009 Fashion Show during NYC's Fashion Week.
There has been plenty of talk of what young Hollywood starlet should step into the role if, and when, it makes it to the big screen.
Article continues below advertisement
Lynda is giving all those household names a big "N-O". Lynda, who is putting out a CD this summer, says she'd like to see "a non-celebrity" in the role.
"Someone without celebrity baggage, "she told the TV Fanatic.
Heck, we do need someone who can do the golden lasso proud!
I also got to hang with my favorite rich gals, The Real Housewives of New York City, at a season premiere hosted by Housewives' Jill Zarin at Side Bar on the Lower East Side.
Amidst fruity cocktails and pretty young boys, Jill quieted everyone as she got into a verbal smack down with Alex McCord and her joined-at-the-hip hubby Simon after a certain gossip item ran in a New York City news rag.
Jill shrugged it off. "This season's theme is don't throw stones at glass houses," she laughed.
From these gals, I expect nothing less.
The Real Housewives of New York City airs Tuesdays at 10 p.m. on Bravo.
I'm in Chicago today, about to see my first taping of The Oprah Winfrey Show. Look for me in the audience!
Until next week, fellow Fanatics…