NEWS
TV WEEKLY ROUNDUP: Harry Connick Jr., Dexter and The Hills!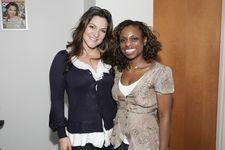 Time does fly by quickly during the week you turn a year older!
This week, it was all about the A-list in celebration of Lifetime's newest tearjerker, Living Proof.
Produced by Hollywood powerhouse Renee Zellweger, it's the true story of Dr. Dennis Slamon, the medical pioneer who developed Herceptin, a drug that helps breast cancer patients live longer. Harry Connick Jr. plays the doctor in the film.
Article continues below advertisement
"Renee mentioned that she was producing this movie, and asked if I would read the script," Harry told me at a private luncheon for the movie's cast. "I thought that it was an incredible story and I wanted to be a part of it."
Our interview interrupted by an amorous friend of Harry's.
"When you see Harry Connick Jr., you just got to give him a kiss," he declared.
Now here's the "only on TV" moment. I replied, "I don't think I'm allowed to do that."
Harry shook his head and replied, "Of course you can," and bent down to give me a peck on the cheek.
Yes, I managed to keep from fainting.
I got the chance to tell Renee that the film is really amazing. "Thank you," she drawled. "It makes me really happy to hear that."
Set your DVR. Living Proof airs Saturday, Oct. 18 at 9 p.m. on Lifetime.
I popped into a soiree for designer Nicole Romano, co-hosted by Tim Gunn's Guide to Style's new fashion cohort, Gretta Monahan.
Article continues below advertisement
The petite stylista told me there's gonna be a whole lot of crying when the show premieres its second season Thursday, Oct. 2 at 11 p.m. on Bravo.
"I think I cried seven out the 10 or 12 shows we did," she declared. "It was just so moving to see these women make their transformations."
It was all about Broadway when musical theater veteran Shoshana Bean stopped by the OK! office. The star of Wicked, Godspell and other CDs in my collection is releasing her debut solo album, Superhero, in December.
One of her songs was used this week on The Hills!
|
"It's Called 'Take Me Away,' a little ditty we wrote," she told me, adding she's a fan of the show.
"It's like candy. I watch for what they're wearing and what silly things they are doing."
I got to see basketball legend Ervin "Magic" Johnson at the launch of Magic Workforce Solutions, his latest initiative with Adecco, to create jobs for people in need. A good cause always gets a shout out in my column!
Article continues below advertisement
I ended the week at the season premiere screenings of Californication and my personal favorite guilty pleasure Dexter.
Guests then mingled at the Showtime House, a brownstone where every room has been inspired by a Showtime series. (Imagine chemistry beakers filled with red fluid as the dining table centerpiece.)
I had to tell Michael C. Hall – Dexter himself – that the first episode laid out quite a bit of information.
"I know, it's a lot to take in at once," he laughed.
For you Dexter, I'm willing to take that plunge (obligatory laugh, please!).
Today, I celebrate my birthday. I'll be out with friends, so I'm putting the DVR in overdrive for the weekend.
But I'll be back soon enough, a year wiser, with more hot TV scoops, interviews and my weekly roundup!
Until next week, fellow Fanatics!