NEWS
TV's 10 Hottest Couples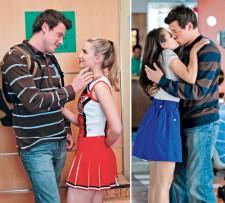 With so many hot twosomes heating up the airwaves these days, OK! decided we had to dish out some awards for TV's 10 Hottest Couples that sizzle on the small screen. From the "Dreamiest Duo" to the "Most Treacherous Team," OK! chose the top 10 sexy pairs making our pulses race.Hottest Love Triangle: Finn, Quinn and Rachel from Glee.
While QB Finn (Cory Monteith) may have a crush on glee club member Rachel (Lea Michele), he's committed to former cheerleader Quinn (Dianna Agron) who says she's pregnant with his baby. But football player Puck (Mark Salling) admitted to classmates that he's really the baby daddy!
Article continues below advertisement
Dreamiest Duo: Grey's Anatomy stars Ellen Pompeo and Patrick Dempsey
Newlyweds Meredith and Derek (McDreamy) win the award while their still in their honeymoon phase as earlier this season they were busy getting it on all over her house!
Most Treacherous Team: Gossip Girl's Chuck and Blair
Leighton Meester and Ed Westwick play the team that ruins many lives and are bound to ruin each other's at some point. "The question is whether or not their love is big enough to save them," executive producer Stephanie Savage told OK!.
Most Complicated Mates: Mad Men's Betty and Don
January Jones and Jon Hamm may look like a wholesome '60s couple, but they really aren't that innocent. The biggest betrayal so far: Don's actually someone named Dick, which Betty only recently learned.
Quirkiest Companions: Jim and Pam from The Office
The cute couple has finally tied the knot and have a baby on the way that's sure to create some awkward situations for Jenna Fisher and John Krasinski!
Article continues below advertisement
Shadiest Pair: Melrose Place's Violet and Auggie
Conniving Violet (Ashlee Simpson Wentz) managed to worm her way into the heart of recovering addict Auggie (Colin Egglesfield). But time's running out for this twosome: Both will be off the show in January.
Hottest High Schoolers: The Vampire Diaries' Stefan and Elena
High schooler Elena (Nina Dobrev) is attracted to Stefan (Paul Wesley) but pulls away after discovering he's a vampire. It doesn't help that Stefan's evil bro Damon (Ian Somerhalder) is running interference. Will they work it out? Sometimes love sucks, but Bella and Edward have survived worse!
Steamiest Supernaturals: True Blood's Bill and Sookie
Psychic Sookie (Anna Paquin) and vampire Bill (Stephen Moyer) have supernatural sex — he even bites her in the heat of the moment! Though they're madly in love, Sookie hesitates when Bill proposes, and by the time she says yes, he's been kidnapped. It's enough to drive a person batty! The books on which the series is based portray Sookie winding up with another vampire, Eric (Alexander Skarsgård) at one point. Will season three follow that plot? Says series creator Alan Ball, "When you're working on a show like this... you want it to be continually surprising."
Article continues below advertisement
Darkest Duo: Eastwick's Darryl and Roxie
Newbie witch Roxie (Rebecca Romijn) is dating much younger Chad (Matt Dallas) but can't resist the mature and mysterious Darryl Van Horne (Paul Gross). In the coming weeks, devilish Darryl and Roxie will explore their feelings, causing Chad to fly off the (broom) handle and ultimately make a drastic, life-changing move.
Truest Twosome: White Collar's Peter and Elizabeth
Peter's (Tim DeKay) FBI gig leaves him little time for romance. Lucky for him, understanding wife Elizabeth (Tiffani Thiessen) gives him plenty of clues for how to treat her right — and she always gets her man in the end.