NEWS
Tweet Repeat: Kelly Osbourne's Bed Head, Kim Kardashian's Compliment and Justin Bieber's Birthday!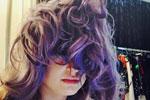 Welcome to Tweet Repeat, your daily dose of the best celeb anecdotes found on Twitter. We've scoured the site looking for the funniest, weirdest, goofiest, deepest, craziest, sweetest, most intriguing thoughts of the day, from the most intriguing people on the planet internet:
Today, Kelly Osbourne had bed head, Missy Elliott praised Mary J. and Justin Bieber fished for birthday wishes...
Article continues below advertisement