NEWS
Tweet Repeat: Lance Bass Posts Cute Puppy Photo, Tamra Barney Is a Housewife Again and Emmy Rossum Jokes With Co-Star Justin Long!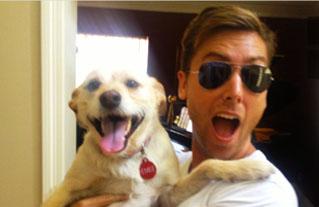 Welcome to Tweet Repeat, your daily dose of the best celeb anecdotes found on Twitter. We've scoured the site looking for the funniest, weirdest, goofiest, deepest, craziest, sweetest, most intriguing thoughts of the day, from the most intriguing people on the planet internet.
Seriously, how cute is the puppy in Lance Bass' new photo? The Spaniel Terrior mix could be yours as Lance is looking for a nice home for the adorable pup! Tamra Barney also officially announced on Twitter today that she is officially a housewife again—see her wedding photos here! Check out what your favorite celebs like Emmy Rossum, Jason Derulo and Kelly Osbourne were buzzing about in today's Tweet Repeat.
Article continues below advertisement
wishing you guys a happy monday! start the week off strong dawgs!

— Randy Jackson (@YO_RANDYJACKSON) June 17, 2013
'The voices in my head may not be real, but they have some good ideas!'

— Kelly! (@KellyOsbourne) June 17, 2013