NEWS
'Twi' 101: Shedding Light on the Vampire Romance That Started it All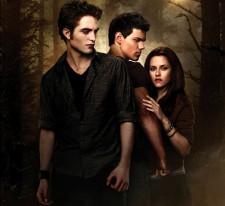 COURSE DESCRIPTION: With the premiere of New Moon 10 days away, it feels like the way of the world, or at least the box office, has turned into a Twi-or-die situation. Does the name Carlisle Cullen ring a bell? How about the traditions of the Quileute tribe? If this jargon doesn't register, have no fear! Whether the ultimate Twi-hard or a vampire skeptic, OK!'s refresher course will prepare you to fool friends and take a bite out of the New Moon action.
Article continues below advertisement
CHARACTERS
Isabella Swan (Kristen Stewart): Leading lady throughout the Twilight Saga. She is extremely accident prone, and tries to avoid sports and dancing. Her thoughts are the only ones Edward can't read.
Edward Cullen (Robert Pattinson): A member of the Cullen vampire clan. Edward was born June 20, 1901 and transformed into a vampire in 1918. Dr. Carlisle Cullen found Edward dying of influenza at the age of 17 and facilitated his metamorphosis into a vamp. He can read minds.
Jacob Black (Taylor Lautner): A member of the Quiluete tribe and family friend of Bella.
Dr. Carlisle Cullen (Peter Facinelli): Respected doctor in Forks and leader of the Cullen vampire clan.
Esme Cullen (Elizabeth Reaser): Carlisle's wife and trusted companion. The couple leads the Cullen family.
Alice Cullen (Ashley Greene): Described as "pixie-like," Alice has the ability to see into the future. She was born in 1901 and transformed into a vampire when she was 19. Initially, she is the most welcoming towards Bella, and becomes a major player in New Moon.
Article continues below advertisement
Emmett Cullen (Kellan Lutz): Known for his strength, Emmett became a vampire in 1935 when he was 20. He has a brawny appearance, loves a good fight, and is married to Rosalie.
Rosalie Hale (Nikki Reed): Statuesque and model-like, Rosalie's beauty is captivating. She is known for her tenacious nature and became a vampire in 1933 at the age of 18. She found Emmett on the verge of death after a fight with a bear.
Jasper Hale (Jackson Rathbone): Married to Alice, Jasper is able to manipulate the feelings of those around him. He is tall and muscular, but with a leaner appearance than Emmett. He's the newest addition to the "vegetarian" lifestyle of the Cullens.
Charlie and Renée (Billy Burke, Sarah Clarke) : Bella's parents. Charlie is the Chief of Police in Forks and Renée lives with new husband Phil in Phoenix.
Article continues below advertisement
Billy Black (Gil Birmingham): Jacob's dad who is unable to walk. He is a leader of the Quileute tribe in La Push, Washington.
James, Victoria, Laurent (Cam Gigandet, Rachelle Lefevre, Edi Gathegi): The blood-sucking vampires who hunt Bella.
SYNOPSIS: Isabella Swan moves from warm, sunny Pheonix, Ariz. to dreary Forks, Wash. to live with her dad, Charlie, while her mother Renée travels with new husband Phil. The transition isn't easy, but Bella forces herself to make friends. She gravitates toward to an isolated family of beautiful individuals who captivate her and begin to consume her thoughts. Bella becomes lab partners with one of these gorgeous people, Edward Cullen. She's confused by Edward, who at first acts disgusted by her and then later makes an attempt at conversation. One afternoon, Edward saves Bella from being hit by a truck in the high school parking lot. He stops the truck with what seems to be superhuman strength, using only his hand. From this moment, on the two become inextricably linked.
After several accidents similar in nature, Bella learns that Edward is a vampire. Not the blood-sucking type, but one who feeds off animals. The town doctor, Carlisle Cullen, is his "father," along with mother Esme and siblings Alice, Emmett, Rosalie, and Jasper. Edward admits his initial attraction was due to her scent, but he is able to suppress his thirst and becomes enthralled with Bella. He is unable to read Bella's mind, making her all the more intriguing.
Article continues below advertisement
Meanwhile, family friend, Jacob Black, has a growing attraction for Bella. Charlie and Billy Black are good friends, and Charlie encourages Bella to hang out with Jacob. Bella enjoys Jacob's companionship.
Meanwhile, a new coven of vampires disturb life in Forks. The Cullens attempt to distract the tracker vamp James by separating Bella and Edward. Bella is sent to hide in a hotel in Phoenix, where she receives a phone call from James, who claims to be holding her mother captive. When Bella surrenders herself, James attacks and she's injured. Edward and the Cullens rescue Bella and kill James. Edward then realizes James has bitten Bella's hand, and he sucks the venom from her bloodstream before she is infected and transformed into a vampire. The first installment ends with Edward and Bella, with a cast on her leg, attending their prom together.
CHECK OUT ALL OF OK!'S NEW MOON NEWS AND PICS!!
IF YOU REALLY WANT TO IMPRESS YOUR TWI-HARD FRIENDS: Want to act like you really know what you're talking about? Here are a few additional facts about the Twilight Saga, sure to impress your most well-versed friends.
• Jessica, Angela, and Mike: Bella's first friends when she starts at Forks High School. Mike has a crush on Bella and is jealous of her relationship with Edward.
Article continues below advertisement
• Tyler Crowley: A member of Bella's group of friends, who almost runs her over in the parking lot of Fork's High School.
• Phil Dwyer: Renée's new husband who is a minor league baseball player. The couple travel together so Phil can pursue is career.
• Silver Volvo: Edward's car, which he drives over 100 mph.
• Vampire characteristics: Pale, glistening skin; strong, defined facial features; eyes that change color depending on hunger; do not age; do not eat; do not sleep; dress impeccably; pretty much perfection!
•Port Angeles: A city near Forks, which is a popular destination spot for many high schoolers. On a trip to Port Angeles with Jessica and Angela, Bella goes off on her own and becomes lost. She is harassed by a group of men who are about to attack, when Edward comes speeding in his silver Volvo to her rescue.
• La Bella Italia: The restaurant where Bella and Edward have an impromptu date, after he saves her from the group of men. Here Bella orders mushroom ravioli, a dinner which has become associated with the Twilight books.
• Quileute: A Native American tribe who live in western Washington. The Quileute Reservation, which was formed in 1855, is located on mouth of the Quillayute River in La Push, Wash. The Quileutes are the most ancient of the Pacific Northwest tribes. Jacob is part of this deep-rooted tribe, which holds many legends and secrets. Bella's curious-nature incite her to investigate the inner-workings of this ancient tribe.